This week's HLINks: 31 August - 4 September 2020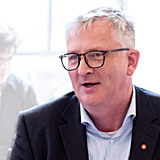 Welcome to Jeremy talks and my weekly piece to audio to coincide with the Housing LIN's free weekly bulletin, HLINks, week ending Friday, 4 September 2020.

In this week's edition, we report on the 2nd technology report by Appello. This follows the joint survey we undertook with them earlier this year whose results show the growing appetite for investment in going digital. We also released two guest blogs. The first on a couple's reason for downsizing and the second (following Channel 4's programme on Friday evenings, Lodgers for Codgers) on homesharing.

I am also delighted to announce that during lockdown we have developed and tested out an exclusive new Housing LIN brand called 'HAPPI Hour', our exciting new online platform for our popular thematic and regional events. We will be running a series of hour-long webinars on a variety of themes starting this month. Get your drinks ready.

In this week's HLINks, you can also read our curated round-up of other relevant news and events on later life living with regard to homes and communities, health and social care, design and technology, planning matters and more.

Check this out and register here to keep in touch with our news alerts and other notifications of your choice, sent direct to your inbox. And remember you can also follow us via our Twitter feeds: @HousingLIN, @HousingLINews and @HLINConsult.

Lastly, if you would like to talk to us about any matters highlighted, share learning about your work and/or discuss how our consultancy services can assist you, email 'Jeremy talks' at: info@housinglin.org.uk.

You can also listen to Jeremy talks… here
Best wishes and stay connected and be safe,
Jeremy
---
This week HLINks also includes:
a round-up of latest/updated Covid-19 resources and guidance relevant to the sector
our usual a round-up of news headlines and new resources on housing, ageing, design and technology, planning, health and care, calls for information
In association with Tetlow King Planning, the updated Older People's Care Development – Local Development Plan Monitoring
And next week, we look forward to releasing Coastline Housing's Louise Beard's guest blog on how their customers navigated the lockdown by connecting over shared interests as well as another on our blog on our HAPPI Hour programme.
The Housing LIN would like to thank Willmott Dixon for their support in producing this newsletter.
Stay connected, stay well and, above all, be safe!