This week's HLINks: 3 – 7 May 2021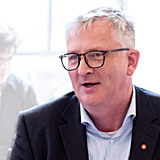 #Jeremytalks (opens new window)

Welcome to #Jeremytalks (opens new window) and our must-read weekly bulletin, HLINks, week-ending Friday, 7th May 2021.

This week we published a new guest blog by Two Generation's Priscilla Yeung. The blog focussed on homesharing and intergenerational living, outlining why older people should take informed decisions about their housing options.

You can also take a tour of other news and events on later life housing and independent living with regard to homes and communities, health and social care, design and technology, planning matters and more. We include a range of items that we think will be of interest to you, including the results of the Centre for Ageing Better's Good Homes Inquiry survey (opens new window). It found that over half of those aged 50-70 polled said the main reason they wouldn't be able to carry out all the accessible renovations is because they cannot afford it.

And, following the launch of the joint report of the RE-COV Study last week, our popular HAPPI Hour sessions continue next week with a free webinar to coincide with Mental Health Awareness Week. Join the Mental Health Foundation's Jolie Goodman, Look Ahead's Chris Hampson and Angelina Morgan, and Assael Architecture's Ben Channon on a wide ranging session exploring the social, financial and environmental connections between housing, mental health and wellness.

Check all the latest news and register here to keep in touch with all our alerts and other notifications of your choice, sent direct to your inbox. And remember you can also follow us via our Twitter feeds: @HousingLIN (opens new window), @HousingLINews (opens new window) and @HLINConsult (opens new window)

Lastly, if you would like to talk to us about any matters highlighted in this week's issue, share learning about your work and/or discuss how you can engage with our highly regarded consultancy services, email 'Jeremy talks' at: info@housinglin.org.uk

You can also listen to #Jeremytalks… here (opens new window)

Stay connected and, above all, with lockdown easing, stay safe.

Jeremy
---
In next week's HLINks
As highlighted above, next week our HAPPI Hour will be addressing housing and mental health matters with the Mental Health Foundation, Look Ahead Care and Support, and Ben Channon, co-founder of the Architects' Mental Wellbeing Forum. We will also be publishing a guest blog by Sue Weston on her thoughts for the sector following the HAPPI Hour session she attended last month on the Archbishops of Canterbury and York's housing report.
The Housing LIN would like to thank Willmott Dixon for their support in producing this newsletter.
Stay safe and remain connected with the Housing LIN!