This week's HLINks: 26 - 30 April 2021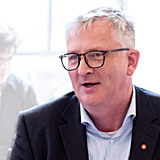 #Jeremytalks (opens new window)
Welcome to #Jeremytalks and our must-read weekly bulletin, HLINks (opens new window), week-ending Friday, 30th April 2021.
This week saw the publication of our ground-breaking 'state of the nation' report into how the retirement village and extra care housing sector in England responded to the impact of COVID-19 during the first two national lockdowns. The joint St Monica Trust and Housing LIN RE-COV study, funded by the Dunhill Medical Trust, shows how housing with care operators' quick response to the pandemic controlled the spread of infection in their schemes and kept COVID-19 related deaths at a low, especially at a time when care homes were being hit so hard.
In this week's HLINks, you can also take a tour of other news and events on later life housing and independent living with regard to homes and communities, health and social care, design and technology, planning matters and more. In particular, we draw attention to a couple of new reports that we think will be of interest. They are one by Places for People and the Cambridge Centre for Housing and Planning Research on understanding supply, demand and investment in the market for retirement housing communities in England and another by Octopus Real Estate into the results of their consumer survey of the potential for retirement housing post the pandemic.
And, staying with Coronavirus, if you missed this, we have teamed up with Appello to undertake a survey to understand if COVID-19 has created a new perception on the use of technology in supported housing and specialist housing. Help us gather evidence on this by having your say before next week's deadline on 6 May 2021. We look forward to analysing all the responses and reporting on the results.
Lastly, our popular HAPPI Hour sessions continue next week with a free webinar on investing in 'care ready' homes for an ageing population. Supported by Winckworth Sherwood, we will be joined by Sir David Pearson, a past ADASS President and co-chair of SCIE's current commission into housing with care.
Check all the latest news and register here (opens new window) to keep in touch with all our alerts and other notifications of your choice, sent direct to your inbox. And remember you can also follow us via our Twitter feeds: @HousingLIN (opens new window), @HousingLINews (opens new window) and @HLINConsult (opens new window)
Finally, if you would like to talk to us about any matters highlighted in this week's issue, share learning about your work and/or discuss how you can engage our highly regarded consultancy services (opens new window) to assist you, email 'Jeremy talks' at: info@housinglin.org.uk (opens new window)

You can also listen to #Jeremytalks… here (opens new window)

Stay connected and, above all, with lockdown easing, stay safe.

Jeremy
---
In next week's HLINks
As highlighted above, next week are hosting a HAPPI Hour with Winckworth Sherwood and guest speaker Sir David Pearson on the current SCIE housing with care Commission. We will also be publishing a guest blog by Two Generations on homesharing and intergenerational living.
The Housing LIN would like to thank Willmott Dixon for their support in producing this newsletter.
Stay safe and remain connected with the Housing LIN!