This week's HLINks: 2 - 6 November 2020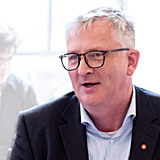 With lockdown now in place, welcome to #Jeremytalks and my weekly piece to audio where we unlock the latest news updates in our FREE weekly bulletin, HLINks, week ending Friday, 6 November 2020.

Ahead of the national lockdown in England and the restrictions put in place from Thursday, earlier this week we joined 60 other organisations in signing up to NCF's open letter to the Secretary of State for Health and Social Care, the Minister for Care and DHSC officials calling for the default position to be that care homes are open for visiting which has been partly been addressed subsequently in the latest COVID regulations on care homes.
In exciting news, following in the footsteps of the HAPPI 'care ready' design principles and a growing interest in how new and emerging technologies can enable independent living at home, Dunhill Medical Trust are supporting a new Housing LIN Inquiry. The Technology to aid an Ageing Population: Panel for Innovation, also known as TAPPI, will officially kick off next month. Watch this space!
On the publication front, we released a new guest blog by Frances Wright, a resident of the award-winning Cambridge Cohousing development at Marmalade Lane, on how residents have coped living in cohousing during the pandemic.
And in this week's HLINks, you can also read our curated round-up of other relevant news and events on later life living with regard to homes and communities, health and social care, design and technology, planning matters and more, including the HoME Coalition's new Resource Pack to help anyone who is preparing to respond to the government's consultation on accessible housing.
Check this out and register here to keep in touch with all our news alerts and other notifications of your choice, sent direct to your inbox, including details about our week long, virtual #HLINSummit2020 on w/c Monday, 7 December to coincide with the first ever #HAPPIweek. And remember you can also follow us via our Twitter feeds: @HousingLIN, @HousingLINews and @HLINConsult

Lastly, if you would like to talk to us about any matters highlighted, share the learning about your work with other Housing LIN members and/or discuss how our consultancy services can assist you and your organisation, email 'Jeremy talks' at: info@housinglin.org.uk

You can also listen to Jeremy talks… here

Best wishes, stay safe and, above all, keep connected.

Jeremy
---
a round-up of latest/updated COVID-19 resources and guidance relevant to the sector
our usual a round-up of news headlines and new resources on housing, ageing, design and technology, planning, health and care, calls for information
In association with Tetlow King Planning, the updated Older People's Care Development – Local Development Plan Monitoring
We look forward to promoting a new blog on Cohabitas by Nick Henley and also reporting on the National Housing Federation's recent #HomesattheHeart campaign. We also contributed to a new ADASS briefing which is due out next week. Sponsored by Home Group it covers the system challenges and opportunities for building the right home for people with a learning disability or autism.
Lastly, the Housing LIN would like to thank Willmott Dixon for their support in producing this newsletter.
Stay connected, stay well and, above all, be safe!