This week's HLINks: 2 - 6 May 2022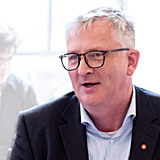 Welcome to #Jeremytalks (opens new window) and our must-read weekly bulletin HLINks.
In this week's edition, we would like to remind our readers that there's still time to apply to become of The Dunhill Medial Trust's TAPPI2 "testbeds". This is a fantastic opportunity to co-produce a TAPPI Framework, led by community-based organisations who are interested in ensuring the principles proposed during Phase 1 are developed and tested in real settings. The deadline for submissions is 16 May 2022.
We also draw attention to Dying Matters Awareness Week, and this year's campaign asks us all to consider whether we're #InAGoodPlace to talk about death, dying and grief? The Housing LIN wanted to show support by sharing a selection of bereavement and end of life care resources that you may find useful, including the recently launched 'Better Lives, Better Endings' resource by Octavia and St Christopher's Hospice.
In other news that caught my interest, we signpost to:
Keep up-to-date with the latest on housing and care matters and register here to receive other notifications of your choice, sent direct to your inbox.
If you would like to talk to us about any matters highlighted in this week's issue, share learning about your work and/or discuss how you can engage our highly regarded consultancy services to support you, please get in contact.
Stay connected and, above all, remain safe.
Jeremy Porteus
---
The Housing LIN would like to thank Willmott Dixon for their support in producing this newsletter.