Dying Matters Awareness Week 2022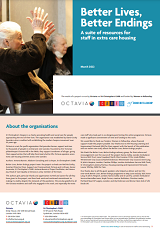 This year, Dying Matters Awareness Week takes place from 2 - 6 May 2022 and gives us the opportunity to question if we're #InAGoodPlace to talk about death, dying and grief?
It's important that we all know what it means for us and our loved ones to be in a good place to die – physically, emotionally, financially, spiritually, and crucially, with the right care and support in place.
However, we know that right now people are dying without the support they need.
This is an opportunity to open the conversation around death, dying and grief, remove the stigma that surrounds it and call for meaningful change so that everyone gets the quality end of life care they deserve.
The Housing LIN would like the show support by drawing attention to a selection Bereavement & End of Life Care resources:
Better Lives, Better Endings: A suite of resources for staff in extra care housing
London housing and care provider Octavia and St Christopher's Hospice have launched their bespoke resource aid for care teams working in extra care housing, to promote a better quality of life for people towards and at the end of their life.
Bereavement in the time of Covid-19
Launched by the Campaign to End Loneliness, the report brings together the latest ideas and learning from leading experts in bereavement care.
Approaches to Commissioning Bereavement Services
This briefing by the charity, Independent Age, follows a Freedom of Information request to local authorities and Clinical Commissioning Groups in Autumn 2020, asking them about their approaches to commissioning services and their knowledge of the current demand and availability of services in their area.
---
If you found these resource of interest, do also have a look at the pages on Bereavement & End of Life Care curated by the Housing LIN and supported by GreenSquareAccord. And lastly, if you would like to find out more about how the Housing LIN can provide you with bespoke support, please email us at: info@housinglin.org.uk or look at our consultancy page.