This week's HLINks: 16 - 20 November 2020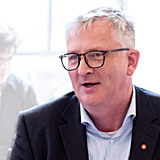 Welcome to #Jeremytalks and my weekly piece to audio to coincide with the Housing LIN's weekly bulletin, HLINks, week ending Friday, 20 November 2020.

This week saw the government launch its Social Housing White Paper and its proposal for a housing charter. It places emphasis on greater tenant engagement and control. To this end, I am a fan of Living Labs and will be scrutinizing the consultation through this lens in relation to older adults and working age disabled adults to ensure that they have a voice.

In other news, we are delighted to partner Learning Disability England to publish an important new report today. Following our joint research, it outlines the key results from our work into the housing circumstances and opportunities for people with a learning disability and/or autism.

In this week's HLINks you can also read about the Centre for Ageing Better's 'State of the Nation on Ageing 2020' report and catch up on our curated round-up of other relevant news on later life living. To help you navigate, HLINks is segmented into key sections relating to homes and communities, health and social care, design and technology, planning matters and more, including reference to the HoME coalition's letter in last Saturday's Times where we signed up to the call for better Accessible Homes standards currently being consulted upon.

And at a regional level, to coincide with their online event, West Sussex County Council have published their health and housing Memorandum of Understanding. Check this out and register here to keep in touch with all our news alerts and other notifications of your choice, sent direct to your inbox. And remember you can also follow us via our Twitter feeds: @HousingLIN, @HousingLINews and @HLINConsult

Lastly, don't forget to register for next month's #HLINSummit2020. There are 10 #HAPPIhour sessions spread over 5 days week commencing 7 December. There is something for everyone! So, if you are interested in intergenerational living or want to find out more about designing accessible homes, want to understand what the digital future of the retirement market is or how can we embed greater leadership qualities to transform the housing and care offer for an ageing population, register now to attend our FREE virtual Summit.
And if you would like to talk to us about any matters highlighted in this issue of #HLINks, share learning about your work and/or discuss how our consultancy services can assist you, email 'Jeremy talks' at: info@housinglin.org.uk.

You can also listen to Jeremy talks… here

Thanks for listening, stay connected and, above all, be safe,
Jeremy
---
a round-up of latest/updated COVID-19 resources and guidance relevant to the sector
our usual a round-up of news headlines and new resources on housing, ageing, design and technology, planning, health and care, calls for information
In association with Tetlow King Planning, the updated Older People's Care Development – Local Development Plan Monitoring
Next week, we look forward to speaking at the West Sussex Housing Partnership conference.
Lastly, the Housing LIN would like to thank Willmott Dixon for their support in producing this newsletter.
Stay connected, stay well and, above all, be safe!