This week's HLINks: 12 - 16 October 2020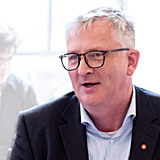 #Jeremytalks (opens new window)
Welcome to Jeremy talks and my weekly piece to audio to coincide with the Housing LIN's free weekly bulletin, HLINks, week ending Friday, 16 October 2020.
Hot off the press: I am pleased to announce that we have now released details of our rescheduled annual conference. Cancelled back in March as Coronavirus was taking hold, we a now organising an exciting week-long virtual Housing LIN Summit with 10 sessions over 5 days, week commencing Monday 7 December. Don't miss out!
This week I was delighted to be invited by SCIE to be a Commissioner on a new Commission into on the role of housing in the future of care and support, supported by Dunhill Medical Trust. More details to follow.
On the COVID front, with a 3-tier system having come into force the government is also rolling out its test and trace, with a specific campaign for extra care housing and supported living operators. Check out details on their information webinars to find out more about arrangements for this.
We also held a great HAPPI Hour session on planning for healthy living and an ageing population with Tetlow King Planning and the TCPA. For more about our next two HAPPI Hour sessions, visit the events page on our website.
In other news, we published a new Housing LIN Viewpoint by LeGrand on the digital switchover and futureproofing grouped living developments. We also partnered Shakespeare Martineau with a new Ipsos Mori Later Living and retirement housing survey. Please take part in this, we want your views.
In this week's HLINks, you can also read our curated round-up of other relevant news and events on later life living with regard to homes and communities, health and social care, design and technology, planning matters and more, including the LGA's updated report on 'Home Comforts' and how the design of our homes and neighbourhoods affected our experience of the COVID-19 lockdown.
Check this out and register here to keep in touch with all our news alerts and other notifications of your choice, sent direct to your inbox. And remember you can also follow us via our Twitter feeds: @HousingLIN, @HousingLINews and @HLINConsult
Lastly, if you would like to talk to us about any matters highlighted, share learning about your work and/or discuss how our consultancy services can assist you, email 'Jeremy talks' at: info@housinglin.org.uk
You can also listen to Jeremy talks… here (opens new window)

Best wishes and stay connected and, above all, be safe,

Jeremy
---
This week HLINks also includes:
a round-up of latest/updated Covid-19 resources and guidance relevant to the sector
our usual a round-up of news headlines and new resources on housing, ageing, design and technology, planning, health and care, calls for information
In association with Tetlow King Planning, the updated Older People's Care Development – Local Development Plan Monitoring
Housing LIN virtual networking events – join us for HAPPI Hour!
Next week we publish a new Housing LIN case study by BPTW architects on their award-winning Rochester Riverside development for Countryside and the Hyde Group, winner of the Building for a Healthy Life at this year's national Housing Design Awards.
Lastly, the Housing LIN would like to thank Willmott Dixon for their support in producing this newsletter.