The future of data-driven social care: How can we harness information to care more proactively?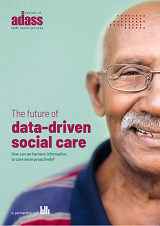 This ADASS discussion paper, sponsored by the smart technology company Lilli, is focused on the need to utilise data much more effectively within the social and health care system.
Interviewed a group of sector experts – including the Housing LIN and people with lived experience of services, commissioners, providers and consultants – to explore these issues further. It outlines how the use of data can reshape the way services are commissioned, moving away from traditional time-and-task models towards outcomes-based ones.