The future of data-driven social care: How can we harness information to care more proactively?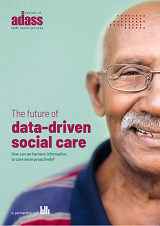 This ADASS discussion paper, sponsored by the smart technology company Lilli, is focused on the need to utilise data much more effectively within the social and health care system. Interviewed a group of sector experts – including the Housing LIN and people with lived experience of services, commissioners, providers and consultants – to explore these issues further.
The Housing LIN's Jeremy Porteus said:
"Integration is more than just building partnerships around service providers and commissioners, it's also about how the systems can integrate better and more effectively... So housing, health and social care are blended in a way that different outcomes can be identified, rather than having a patchwork of three or four different pieces of kit."
It outlines how the use of data can reshape the way services are commissioned, moving away from traditional time-and-task models towards outcomes-based ones. The key takeaways include:
Social care, health and housing organisations should be enabled to work together to integrate systems so that all can benefit, including through the possibilities offered by data-analysis products that do not depend on proprietary hardware
Commissioning bodies, and care and tech providers, must include citizens in the design of products and services at an early stage, be transparent about how their data is used and set out clearly how it can make care more preventative and less reactive
Public authorities should involve tech as well as care providers when commissioning care, enabling services to be designed that fully incorporate digital and data solutions.