The State of Ageing in 2020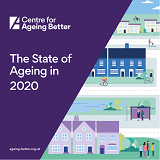 This new report by the Centre for Ageing Better describes the nation's state of health, finances, communities and assesses the impact has had COVID-19 on them.
Within the report, presented are clear findings on housing and digital infrastructure, along with recommendations for improvement in both sectors. The report warns that poor health, unsafe and low-quality housing, and a lack of social connections have exacerbated the impact of the pandemic particularly among the less well-off.