The State of Ageing in 2020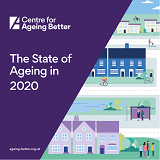 This report by the Centre for Ageing Better describes the nation's state of health, finances, communities and assesses the impact has had COVID-19 on them.
The report references to nationally-available data, namely data from the Office for National Statistics on employment and economic activity, and data from the Ministry of Housing, Communities and Local Government on accessibility of English Homes.
Within the report, presented are clear findings on housing and digital infrastructure, along with recommendations for improvement and action in both areas:
Housing wealth is stated as being an important factor in improved future outcomes related to the ageing of younger and middle-aged adults, and the need to take steps to improve this for these age groups.
That the majority of older people live in mainstream housing, rather than specialist housing. It recommends for more homes to be built to a higher standard of accessibility, homes that are accessible, adaptable and flexible.
Action from local and national government and funders to invest more in physical, social and digital infrastructure that enable people to live in more connected communities.