Raising accessibility standards for new homes: Govt support for raising accessibility for new homes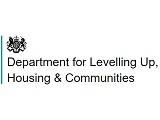 The government have published their long-awaited response to the consultation on raising accessibility standards for new homes.
The 2020 consultation sought views on how to raise accessibility of new homes and put a number of options forward in relation to making amendments to Part M of the Building Regulations.
As a member of the HoME Coalition (opens new window) - calling for stronger rules on accessibility - the Housing LIN supported proposals for Part M4(2) as the minimum accessibility standard and as is delighted by the outcome of the consultation and the government's proposals to adopt Part M4(2) as a minimum standard.