New Report on Housing and Ageing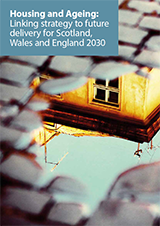 A University of Stirling-led report has found that the UK housing sector is still not ready for ageing, but said there is evidence of real support and political buy-in for ongoing and future solutions.
The report, Housing and Ageing: Linking Strategy to future delivery for Scotland, Wales and England 2030, recommends that housing should play a central role in the provision of services for older people.
It also calls for new adaptable and affordable housing to be built; investment in early intervention; and meaningful consultation with older people.
Project lead, Senior Lecturer in Social Policy and Housing Dr Vikki McCall, said:
"We must act now if we are going to meet the housing needs of future generations by 2030.

"Overwhelmingly, these recommendations point to a proposal to support people ageing in the right place, with clear elements of learning from services, organisations and older people across the UK.

"Evidence has shown that the preferred environment in which to age is at home and in the community. To achieve this, the findings highlight putting housing at the heart of service integration as the first step, as housing supports are needed that encourage older adults to live independently, co-located in a community of choice and surrounded by services and amenities that meet the often complex and changing requirements of old age."
Jeremy Porteus, managing director of Housing LIN, said:
"The importance of this tri-lateral report cannot be underestimated. Drawing on latest policy insight, examples of age-friendly practice and testing out our assumptions on housing and ageing, it highlights both the unique and shared housing challenges and opportunities facing an ageing population in Scotland, Wales and England. It's a must read. "