New Kingsbury Hill Fox Market Report: Extra Care, Assisted Living and Retirement Communities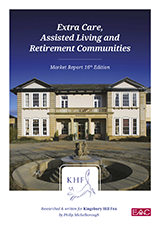 Kingsbury Hill Fox have released the 16th edition of their Extra Care, Assisted Living & Retirement Communities Market Report written as were the previous 15 editions by Philip Mickelborough.
This report focuses on extra care housing, but also looks at related forms of housing. It reviews the ways in which extra care is regulated and considers the factors that will influence demand for the service. It covers the various funding streams that make it possible to build and operate extra care housing - and whether this money is set to increase in coming years as investors flock to the opportunity. Central and local government policies and practices, the resources available to baby boomers and the costs of extra care are covered.
In over 350 pages and over 70 tables this market report will explain the market to newcomers and provide valuable data and insight to those experienced in extra care.
Including data from the Elderly Accommodation Counsel this report is invaluable reading for commissioners of residential care or homecare for older people, for developers and managers of extra care housing, for those who provide the care component, for RPs who accommodate older people, for managers and developers of private retirement housing, for councils with sheltered housing, for strategists and policy-makers and for those who advise or support them. It is also essential to all investors with a stake in the UK older care market or those looking to enter the sector.
The report includes information about:
Integrated housing with care
Extra care
Care villages
Assisted living
Very sheltered housing
Retirement communities
Sheltered and private retirement housing
Having covered set-up costs for publishing the 15th edition it has been possible to bring down the price by 20%.
To order please contact Philip on +44 7941 331322, email sales@kingsburyhillfox.com, or click on the link below.