Housing LIN publishes new Inspirational Achievement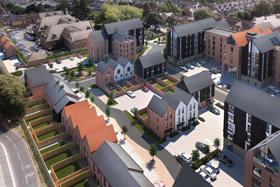 Our newest Inspirational Achievement is the stunning new extra care development at Arden Quarter from Orbit Group in the historic town of Stratford-upon-Avon.
Orbit Group, sponsor of our Extra Care Housing - Funding Matters page, is one of the UK's leading housing providers, owning and managing a growing portfolio of more than 43,000 homes.
Designed by award-winning architects PRP (opens new window), Arden Quarter is an intergenerational scheme of 189 new homes, featuring 58 general needs apartments and 102 extra care apartments.
"Our vision for Arden Quarter is to offer a range of high-quality new homes in a great central location, which will meet the housing needs and aspirations of local people and create a community that they are proud to live in."
Kim Craig, Sales Manager for Orbit Group
Inspirational Achievements
Our 'Inspirational Achievements' page is where we focus on one of our partners.

The Housing LIN's 'Inspirational Achievements' pages is where we focus on one of our partners. Only available to sponsors of the Housing LIN, 'Inspirational Achievements' showcase our partners' achievements and inspire learning and improvement with our members.
You can follow our Inspirational Achievements on Twitter by using the hashtag #InspirationalAchievements (opens new window)
And if your organisation would like to be featured in future on these pages, contact info@housinglin.org.uk (opens new window) about our sponsorship packages.