How can technology help older and disabled people live more independently in their homes?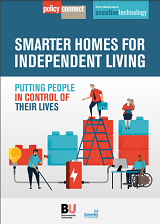 This new Policy Connect report highlights how smart home technology is a huge opportunity for disabled and older people to take control of their lives, to live independently with more choice and control over their lives.
Commission chair Sir Paul Carter CBE and author Clive Gilbert discuss good practice case studies of the impact smart home technology can have.
This report outlines tangible actions that government and industry can take to support independent living and improve the quality of life of disabled and older people and their families, while also reducing financial pressures on the NHS and the social care system.