Smarter Homes for Independent Living: Putting people In Control of their Lives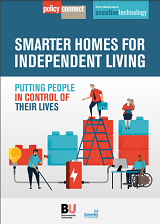 This Policy Connect report highlights how smart home technology is a huge opportunity for disabled and older people to take control of their lives, to live independently with more choice and control over their lives.
However, the report argues that unless we provide the right support services and design tech together with disabled and older people, tech may instead become a barrier pushing people further away from our increasingly digitalised society.
Commission chair Sir Paul Carter CBE and author Clive Gilbert discuss good practice case studies of the impact smart home technology can have.
This report outlines tangible actions that government and industry can take to support independent living and improve the quality of life of disabled and older people and their families, while also reducing financial pressures on the NHS and the social care system.
As well as providing benefits for individuals and their families, this kind of investment has significant payback for public services.
The report makes several recommendations as followed:
National and local government should ensure that disabled and older people are involved at the commissioning and design stages of technology - the principles of independent living should be at the heart of health and social care policy and practice.
Government should launch a national pilot of an Independent Living Technology Grant that would provide funding for disabled and older people to buy low-cost technology and any support they might need to use it. 
The government should direct the proposed Centre for Assistive and Accessible Technology to deliver a public awareness campaign for technology and independent living designed to boost the consumer market for these products and services. 
The findings in this report are widely recognised in the health and social care sector and beyond. However, resolving the problems highlighted by this report will require action across government and industry – reforming how social care is commissioned, reshaping consumer markets, unlocking technological innovation and boosting awareness of independent living technology across society.
This report sets out an action plan to achieve these objectives.