Housing and Ageing Alliance publishes 2019 manifesto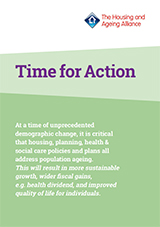 The Housing and Ageing Alliance has published its 2019 manifesto.
The manifesto builds on three proposals that inform its policy recommendations:
To enable older people to live independently and well wherever they choose, remaining in control of their homes and lives;
To create age-friendly homes, neighbourhoods and services that enable people to live healthy, fulfilling lives, involved with families, friends & neighbours and contributing to their communities in later life;
To create integrated housing, health & care policies all aiming to enable people to live safely & well at home as they age.
You can read the manifesto and find out more about the Health and Housing Alliance by visiting our HAA page.