Government publishes new green paper on health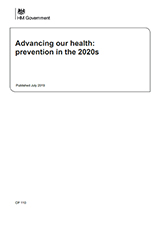 The government have published their green paper and are consulting on a number of measures that support healthy living.
There are several references to the links between public health and housing interventions that prevent deterioration of health needs and/or demand for personal care.
In particular, it highlights a number of case studies that offer a health dividend, such as the work of Middlesbrough's Staying Put Agency.
It also recognises "too few homes and neighbourhoods meet the needs of older people" and that "in the 2020s, home adaptations, assistive technology and supported housing will be more important than ever; helping people to stay independent for longer and supporting those with complex needs including serious mental illness, learning disabilities and autism to lead good quality lives in communities."
The deadline for responses is 14 October 2019.