Coming Home: Tackling the Housing Crisis Together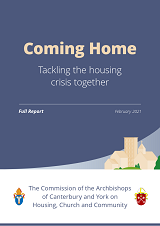 This report, commissioned by the Archbishops of Canterbury & York, sets out actions for the Church, Government and other stakeholders, focusing on building better communities and homes, not just houses.
At the heart of the report are 5 core values; namely, good housing should be sustainable, safe, stable, sociable and satisfying.
The report refers to meet the needs of the most poor and vulnerable in society, including older people and people with a disability. It highlights that around 8 million people in England live in overcrowded, unaffordable, or unsuitable homes and states: "That is not right".
It makes a number of recommendations to Government but also outlines what the Church of England will do.