Available now! Key interior design considerations for later living environments.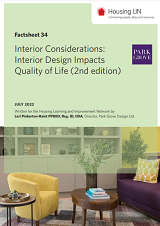 This Factsheet, a collaboration between Park Grove Design Ltd and the Housing LIN, shares latest key interior design considerations when developing environments for later living which are both inviting and in-line with current design research and practice. It builds on the Housing LIN Factsheet No.34, first published in 2012.
Formally being launched at this afternoon's HAPPI Hour, this updated Factsheet is intended to be used as a discussion tool and to aid in considerations for the interior design of new build and refurbished housing schemes for older people, including concepts for: extra care housing, dementia design, and is applicable to purpose-built residential properties for people in later life.
This factsheet provides inspiration for making housing which meets many of the needs of older people while creating a desirable place in which to live. It draws on several examples of where interior design has been put in practice, including in partnership with the leading accessible design consultancy, Motionspot.
Lori Pinkerton-Rolet, Founder and Director at Park Grove Design Ltd, commented:
"Innovative housing solutions are essential for an aging population and Park Grove Design is delighted to join forces with Motionspot to support the informative work of Housing LIN. We're looking forward the launching the new Housing LIN Factsheet on Interior Considerations at today's HAPPI Hour, and to a lively interactive dialogue on these important topics."
Jeremy Porteus, CEO at the Housing LIN, said:
"We often forget that the appeal of housing for people in later life is not just about the attractiveness of the exterior design, its location or the build quality but also the first impression on entering the building. As this factsheet highlights, good interior design can generate a 'wow factor'; the decor, lighting, furnishings and fittings not only helps create an affinity with the scheme – a pride of place and belonging - but also enables people to imagine the possible, a desire to live there in their later years."