APPG on Ageing and older people release report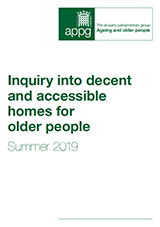 The All Party Parliamentary Group on Ageing and older people have released their report, Inquiry into decent and accessible homes for older people
The report, to which the Housing LIN submitted written evidence, includes 13 recommendations to improve the standard of housing for older people.
The inquiry looked to gain insight into the challenges older people face across housing tenures, an understanding of the connection between poor housing standards and public health concerns and produce recommendations on how to improve housing for older people.
Of the 13 recommendations some specifically focused on the importance of accessibility, the Disabled Facilities Grant and other forms of financial assistance plus the need for investment in home improvement agencies and handyperson services.
The report also recommends that housing is integrated with health and care strategies, as per the 2018 'Memorandum of Understanding on Improving Health and Care through the Home', to which the Housing LIN was a signatory.