1st Panel Debate: Innovations in dementia
Mel Knight, Group CEO of Castleoak, chaired this stimulating Panel Debate.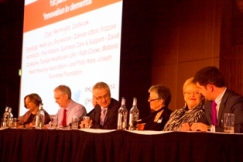 Panellists included: Helen Joy (BrunelCare), Damian Utton (Pozzoni Architects), Paul Watson (Guinness Care & Support), David Cockayne (Tunstall Telecom), Ruth Cooke (Midland Heart) and Philly Hare (JRF).
The Panel Debate considered the following:
What needs to be done to make housing organisations dementia-friendly? What are the panel members doing in their own organisation?
What is the extra in ECH for people with dementia? Is the panel aware of other housing models which can effectively support people with dementia to live well?
How is the design of ECH changing in the light of experience and evidence to better meet the needs of people with dementia and concurrent conditions, disabilities or impairments?
Is there evidence that assistive technology is being used effectively in ECH to improve outcomes for people with dementia and their family carers?
What is the future for ECH for people with dementia? Do members of the panel foresee a time when ECH completely replaces residential care, or is there still a place for care homes?