HLINks: New HLIN blog, new resources, and news and events from the specialist housing sector
Welcome to the latest edition of HLINks, the Housing LIN's weekly news bulletin. This week we feature a new blog about tips for marketing to retirees. We also have all the new resources and news and features about the specialist housing sector.
Housing LIN Blog
Marketing to retirees: Some golden tips on marketing for senior living
Our newest guest blog looks at marketing senior living options to retirees.
Writing for the Housing LIN James Fenner, of Silk Road, summarises his presentation at last month's Property Week Retirement Living conference.
Homes for 2030 Innovation Challenge
Affordable, efficient and healthy homes for all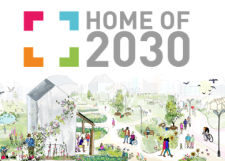 The Innovation Challenge is an opportunity for innovators to participate in the Home of 2030 project and secure prizes up to £10,000 for further development of their housing product and system innovations. With three weeks to go, bids are open for one or more of the following four themes:
Inclusive living
Building performance (low environmental impact and/or low lifelong carbon impact)
Smart and digital technologies
Scalability
The Innovation Challenge closes on Friday, 13 December 2019. Click below for further details.
The Housing LIN is delighted to be on the Homes for 2030 Advisory Panel.
Housing, Community, and Ageing
Design, Planning, and Technology
Inside Housing: Inside Housing Development Awards 2019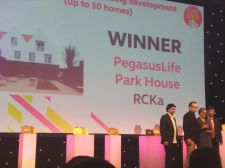 Hull City Council's Newbridge Village, managed by Pickering and Ferens Homes, won Best Older People's Development (over 50 homes).
Park House, Lifestory's PegasusLife development in Harpenden designed by RCKa (pictured) won the Best Older People's Development (under 50 homes).
Congratulations also go to One Manchester's Sandpiper Place for their development with the Oasis Trust in Gorton for winning the Best Partnership: Council or NHS. Their recent South Gate development, recently featured as a Housing LIN case study, was shortlisted in one of the older people's categories.
More Design, Planning, and Technology news
Events
Housing LIN Events
Last of the Housing LIN 2019 regional showcase events takes place on Monday, 2 December in Brighton
We have started planning our spring 2020 events. If you would like to host a meeting for 30-40 Housing LIN members in your region then please email us at: info@housinglin.org.uk
Promoted by the Housing LIN
Next Week
Next week we publish two new guest blogs. The first, by Joe McLouhglin of JJHousing's Astraline, focuses on the digital challenges facing older people. The second, published to coincide with Grief Awareness Week, is by the University of Aston's Caity Roleston and takes a look at Cruse's bereavement project with ExtraCare Charitable Trust.
If you missed this: our Extra Care Housing Survey has been extended to the end of the year.
With Thanks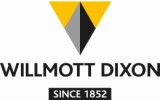 The Housing LIN would like to thank Willmott Dixon for their support in producing this newsletter.