The birth of Waltham Forest Dementia Action Alliance Group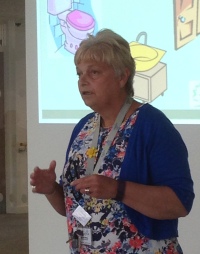 Written by Linda Milton, Chief Executive, Waltham Forest Housing Association for the Dementia and Housing Working Group (D&HWG)
WFHA are a small local provider of housing, predominantly Supported and Sheltered in London Borough of Waltham Forest. With a large percentage of our tenants over the age of 60 we were keen to be involved in the research work on Small Providers involvement with Dementia with Orbit Charitable Trust in 2013/14. We appreciated that whilst we had been doing a lot of adhoc work with our tenants who were living with dementia, there was a lot more that we could be doing....
This spurred me into contacting the local Alzheimer's Society to set up a Waltham Forest Dementia Action Alliance Group and I was duly elected Chair. Following a successful formal launch in October 2014, our local MP, John Cryer, became our patron. We now have 41[1] Alliance Members and one of the largest groups in London.
Internally we were very keen to be recognised as a Dementia Friendly Organisation so we appointed an Operational and a Strategic Dementia Champion and trained all staff to be Dementia Friends. This was later to be expanded to our Board Members. One of the initiatives that staff developed was the Sunshine Club. This is an activity group that is tailored to the needs of tenants who are living with Dementia as well as being suitable for all tenants with or without dementia. This monthly group takes place at schemes across the borough and provides a safe environment for tenants to socialise and take part in activities including, pampering, music, quizzes and reminiscence sessions. The group is designed to raise awareness of dementia, to break down the stigma attached to the disease, educate tenants without dementia to understand the needs of their neighbours and reduce social isolation.
We felt that as well as looking at how we support our tenants and raise awareness we should also consider the environment in which they live. When planning our cyclical programme of works for 2014/15, we decided to look at two of our sheltered schemes to provide a pilot communal dementia friendly redecoration project that could eventually be carried out across all of our schemes, not just sheltered. Our aim to was to ensure that tenants living with dementia were able to live for as long as possible in their own home and to make accessing facilities as easy as possible particularly around the communal areas which may all look very similar.
As well as involving tenants from both schemes, we invited the contractor, K&M Decorating, the supplier, Dulux and Waltham Forest Alzheimer's society to work with us on specifying the works that would include painting and decorating of the communal areas and replacement floor coverings. All of the work was scheduled to be carried out and so this was not an additional expense to the budget. This would form part of a core specification that could be used at any of schemes, not just sheltered.
In order to ensure that the contractors and suppliers had a true understanding of dementia and the needs associated, we invited them and 6 of our regular day to day contractors to attend a Dementia Friends session.
Dulux provided specific mood boards for the two schemes as part of our tenant consultation programme which included not only tenants of the two schemes, but other tenants who attend our Sunshine Club. The work is now completed but the lessons learnt have been incorporated within this years planned works.
As an aside from this piece of work, it also made us look at the works that are carried out when our properties become empty. What could we include within the design core specification that would assist any of tenants in the future who developed dementia? We now have a new void specification that includes items such as non white toilet seats; different colour skirting boards and door frames to the walls and differential of colours between sinks and splash backs. None of these items will incur any additional cost but will make a difference to the independent living of future tenants living with dementia.
This was the start of our environmental ambition to make our schemes dementia friendly and suitable for all within our void and planned maintenance programmes.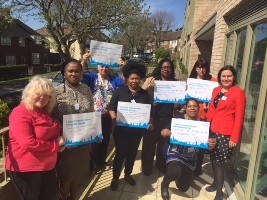 As a local DAA group we are working collectively to make London Borough of Waltham Forest a Dementia Friendly Community. We are concentrating on two areas initially; Housing and Arts and Leisure. Leyton Orient FC kindly have dedicated a match to raise awareness in the last two seasons as well as providing community dementia friendly activities and other arts centres such as William Morris Gallery and Vestry House are active participants. As a Housing Provider, I felt that a good place to start was to share our experiences with other housing providers who work locally. So on 20th April 2016, the Waltham Forest Dementia Action Alliance Group hosted a morning workshop on how Housing can integrate dementia design into new and existing buildings.
The morning started with a tour of a new scheme in Chingford that has recently opened and has a number of dementia friendly design features. This was followed by a brief overview of the work of the London Dementia Action Alliance Group and the aim to make London a Dementia Friendly Capital city and housing plays a very important role in achieving this. Housing Managers and officers were joined by support and asset management staff to hear our local Senior Occupational Therapist in Housing, talk about design in new buildings. She explained about inclusive design; wayfinding; communal areas; accessibility; lighting, furnishings as well as the importance of training for staff. Some of these features were also included in my presentation which explained how you can incorporate dementia design within existing cyclical programmes as well as improvement and void programmes, as part of existing budgets as explained above. Not all work has to be carried out in one go. For example, I explained how we at WFHA wanted to include an upgrade of the lighting in communal areas as well as the cyclical decs and replacement furnishings. However to include lighting was too expensive so we have programmed that for another year....meanwhile tenants can enjoy their new dementia friendly decs, signs and soft furnishings.
The half day session was a great success and we hope that a lot of what was discussed on the day finds its way into other schemes across the borough.
As an organisation we continue our dementia friendly theme in all that we do and as a local DAA group we will make Waltham Forest a dementia friendly borough!
http://www.wfha.org.uk/ (opens new window)
For further information please contact info@wfha.org.uk
---
[1] As at 8th June 16