Technology for our Ageing Population: Panel for Innovation (TAPPI): Phase 2 - from Principles to Implementation
The Technology for our Ageing Population: Panel for Innovation (TAPPI) Inquiry, which we at the Dunhill Medical Trust have been delighted and excited about supporting in equal measure, examined current practice and set out some future directions for the use of technology in housing and care contexts, with the aim of reporting its findings in the form of a set of proposed principles for action that make life better and more fulfilling for our ageing population.
The Inquiry report, which was published and launched in October 2021, had three aims:
To establish the core principles that are crucial to the creation of housing and care environments in which technology is included to make life better and easier for people.
To gather best practice examples (both in terms of insight and action) that can inspire all of those involved in delivering housing and care to do better.
To generate vital questions to stimulate further strategic conversations and practical action.
Housing, health and care are complex sectors. Why? Because they straddle the public, private and third sectors. They involve people, land and money. Bring in technology and you have the almost-perfect storm. Simply looking at the issues from the supply side – for example from a membership organisation's perspective or from the perspective of a particular government department was not going to solve anything very much for the people who matter. Which is why I was so pleased that, from the start of our journey with our friends at the Housing Learning and Improvement Network (LIN) on TAPPI, everyone we spoke to in gathering our evidence was keen to look at the issues from the perspective of their family members, friends, neighbours - or indeed their older selves. Putting people at the heart of the issue was so very important to us.
So now I'm even more excited to be launching a second phase of this work. We want to make sure that the evidence we gathered in Phase 1 is built upon and used to create a widely accepted Framework which ensures that the recommended TAPPI Principles are at the centre of change programmes that transform people's experiences of care and support in a variety of home contexts. We're intending to recruit some innovative and forward-thinking organisations to be "locality testbeds" which, we hope, can then be used as "exemplars" to catalyse nationwide adoption through engagement from the "ground up".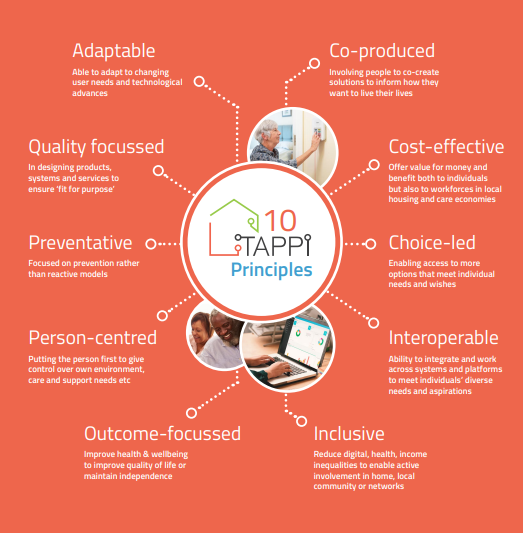 In short, we now want to test out what is possible and challenge what is perceived to be impossible, building on learning from the pandemic and creating new housing service models using technology-enabled care and/or mainstream technologies which support personalisation and, simply, deliver better outcomes for people.
Our delivery partners (the Housing LIN and the TEC Services Association) are keen to work with, and share experiences from, a wide range of organisations which provide housing and enabling technology that support the independence of our ageing population, for example, different forms of grouped living, step-down dwellings to support reablement/rehab, assisted and supported living in people's own homes.
We view enabling technology as a vital element of supporting people to remain as independent as possible in their own homes and communities as they age, so this programme is much broader than simply evaluating the impact of the digital upgrade of a scheme's alarm systems, for example. We're looking for practical, holistic solutions and supporting services that can enable people to achieve better, personalised outcomes effectively and efficiently.
We will be launching the TAPPI2 programme at the TEC Services Association (TSA) ITEC Conference on 29 March where we will be opening a funding call for organisations who wish to be considered to be a locality testbed. Dunhill Medical Trust in partnership with TSA have agreed a 40% discount (opens new window) to the ITEC conference for all Dunhill Medial Trust stakeholders and Housing LIN members.
We are also running separate funding calls to identify a Co-Production and Engagement Partner and an Evaluation and Shared Learning Partner. Further details of these as they are announced can be found here (opens new window).