Room to manoeuvre? Flat sharing with work.
In interwar Britain, the country saw a boom in housebuilding at a rate incomprehensible in comparison to today's figures. Around 4.5million homes were built between the 1920's and 1930's, with the influence of European Modernism seeing apartments overtaking houses by the start of the second World War. Whilst the apartment block is now ubiquitous across our cities, in the early 20th century this was seen as an alien concept in contrast to the traditional idea of a British home.
Illustrator Heath Robinson responded to this culture shock with a whimsical but also ingenious blend of artistic commentary that he became famous for in pre- and post-war Britain. His 1937 book, 'How to Live in a Flat', depicts the challenges faced by the British public in shoehorning and adapting their hitherto known way of living into a smaller and more communal environment; a gentleman fixes a temporary garden extension onto the side of his apartment building hovering perilously above the street below; residents keep up their fitness by jogging on the roof; and room partitions are mechanised to allow the space to be shifted according to need.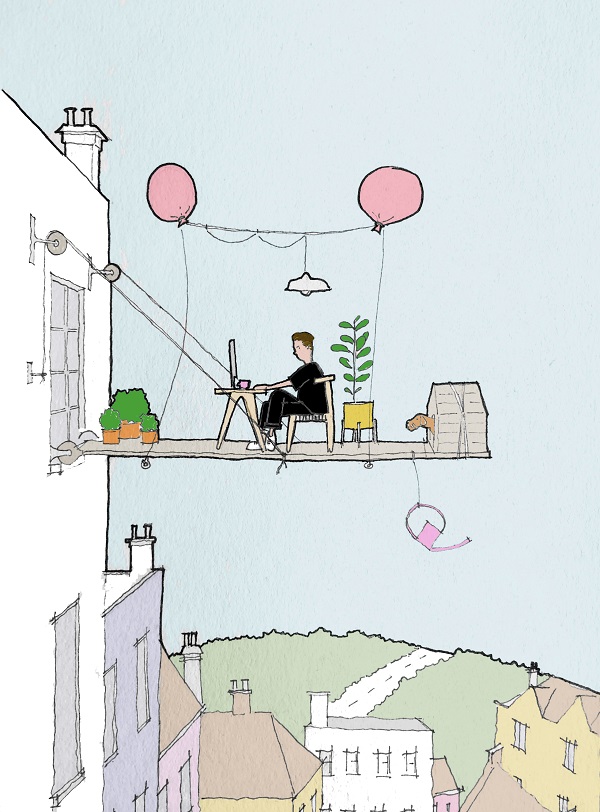 As a nation currently battling with the Covid-19 crisis in all kinds of ways, I found myself – as an architect - thinking about the struggles many of us are facing in distilling all the functions and activities of our pre-lockdown way of life – work, exercise, socialising, shopping – down to the confines of our homes. The struggles depicted by Heath Robinson have suddenly taken on an uncanny relevance, not just in his typically British satirical response, but the ingenuity applied to adapting our homes to make them work for us. We have seen a myriad of examples of how people have applied admirable resourcefulness in nimbly adapting their homes to suit a range of needs – adjustable desks fashioned out of ironing boards, marathons being run on balconies, for example. However, in a post-corona world, what new functions and flexibility might we, as architects, have to realistically consider as standard?
With the easing of lockdown likely to be a protracted process, combined with years of previous research indicating the benefits of flexible working and working from home for both employees and businesses – working from home, or at least flexible working, looks increasingly like it will become the new normal.
However, are our homes fit for this purpose? A recent survey on this led by my practice - Assael Architecture - highlighted that only a quarter of respondents were able to work from home in a dedicated home office and that two-thirds of homeworkers felt lockdown was negatively impacting their mental health.
It is likely, therefore, that we will see an increasing demand across the residential sector for more priority to be placed on home working. Particularly in space-precious city centre housing projects, this poses a problem for architects. With Nationally Described Space Standards unlikely to change in the short-term, could this offer an opportunity to explore and put greater worth on design solutions that maximise a space's usability and flexibility?
One of the greatest tools we have for a more usable space is light – a double-aspect 50 sqm home offers far greater usability than a single-aspect 70sqm home. By considering how we arrange apartments to maximise frontage, we can introduce additional usability without necessarily requiring more area.
Whilst the true picture of our post-corona world still remains to be seen, what we require from our 'home' and 'office' will almost certainly see a more dramatic shift than we have seen in decades, if not a century.
There are also opportunities in how we arrange and sub-divide our homes. Might we consider the use of modular partition systems? Identifying suitable partition locations that could be easily moved and reassembled would allow residents the flexibility to adapt a home to reflect their needs without the expense of construction work, or the limitations of renting. A step further could see a shift towards more open-plan homes that offer greater scope for customisation. The welcome priority towards sprinklers in apartment buildings in the wake of the Grenfell tragedy means that internal apartment layouts are less reliant on sub-divided 'fire compartments.' This brings the opportunity of open-plan, allowing both the flexibility for homeowners to sub-divide the space to suit their needs, and to gain additional space for home offices otherwise used up by dividing walls and corridors.
The popularity of Build to Rent and Co-living developments will also continue to play an important role, where a range of communal functions such as co-working spaces are offered in addition to one's private residential space, providing a more efficient solution to meeting the range of residents' needs in areas where space is at a premium.
Whilst the true picture of our post-corona world still remains to be seen, what we require from our 'home' and 'office' will almost certainly see a more dramatic shift than we have seen in decades, if not a century. Architects should be at the forefront of this discussion; adopting the ingenuity shown by Heath Robinson nearly a century ago may not appear so whimsical after all.
This Housing LIN blog is part of a new series stimulated by the Housing LIN's Jeremy Porteus thoughts on preparing for 'work ready' housing and adapting the HAPPI design principles for work readiness. More at: https://www.housinglin.org.uk/blogs/HAPPI-Working-from-Home-Designing-work-ready-housing/
If you found Tom's blog of interest, we welcome further contributions on the theme of working from home. And for more on Assael's survey findings, visit: http://assael.co.uk/news/2020/how-are-our-homes-impacting-our-mental-health-during-lockdown/