Re-engage and Anchor Hanover join forces to tackle the crisis of 'lockdown loneliness' in older people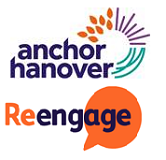 Last year the Office for National Statistics published findings around the impact of the first Coronavirus lockdown on loneliness and wellbeing. This showed that during April 2020 of those asked, just over 30% reported their wellbeing had been affected through feeling lonely in the past seven days. Those who were most likely to experience 'lockdown loneliness' included those living alone in the younger age groups or those aged 70 and over. It also highlighted that those living in rented housing were more likely to feel lonely.
Anchor Hanover has over 50,000 residents ranging from 55 to 110 in age and we saw the increase in loneliness alongside real difficulties that the first lockdown posed around shopping and accessing other services. Our local teams completed Community Support Plans as an immediate response to identify those who may be most at risk as a result of the Coronavirus restrictions. During the first lockdown over 20% of residents were shielding, 13% didn't have the support of family or friends and 5% struggled to complete their shopping.
While our local colleagues faced many challenges around adapting to working safely and changes in their own lives, they responded in a wide variety of ways including accessing the services provided by local authorities, contacting local shops, encouraging peer support and working with the many local volunteers who stepped up to help the most vulnerable.
We were especially concerned about those who did not have the support from family or friends for a variety of reasons. To respond we rapidly established a telephone support service targeted at those who may be most lonely. Colleagues volunteered to ring residents once a week for a chat about whatever interested them. If we picked up other issues during these calls we acted upon them but for many it was the opportunity to talk about their family, their hobbies, the latest football news or what had happened in Corrie that week. This was possible because changes in working patterns and the services we were delivering gave colleagues some time to make these calls. We named this service BeSupportive and at its height we were making calls to over 800 residents. It proved to be rewarding for both residents and the volunteers during such a difficult time.
We knew we would not be able to maintain BeSupportive through colleague volunteers when services resumed as the restrictions were reduced following the first lockdown. At that time, we started to develop our partnership with the charity, Re-engage, and found we had very similar aims and common thinking about how we want to reduce loneliness for those in later life. We even use the same colours in our logos!
Re-engage has been operating for over 50 years, similar to Anchor Hanover. For much of this time it was known as Contact the Elderly and then in 2019 it was rebranded to be called Re-engage. It exists to provide social activities for older people at a time in their lives when their social circles are diminishing. In normal times it organised over 900 regular social gatherings across the UK for 8,500 older guests, supported by 14,000 volunteers. However, in response to the Coronavirus crisis Re-engage suspended these social gatherings and created a new telephone befriending service for older people called Call Companions.
As well as making sure that all those already receiving their support get a regular phone call throughout the lockdown, Re-engage is offering a call companion to anyone else of this generation who lives alone or in housing for older people and feels lonely or isolated.
Re-engage and Anchor Hanover have formed a partnership to maximise those we can help during these difficult times through the invaluable support provided by Re-engage volunteers. All those Anchor Hanover residents who want to continue to receive a BeSupportive support call have now been transferred to the Re-engage service. We are very excited about the opportunities to expand our joint working to tackle loneliness during the virus period but also as the restrictions gradually reduce. The combination of a specialist charity and a large housing provider with over 50,000 residents in later life opens up new potential solutions to maximise the benefits of a large volunteer base to improve the quality of life of many and contribute to more resilient communities.
One resident, Ian, who's 85 and lives in the midlands, started receiving the calls because he was feeling low after experiencing health problems. He says:
"I live in a complex for older people with a shared living area but since the pandemic we haven't been able to mix at all. It's been difficult because I haven't been well, but I don't like to encroach on other people's privacy.

It means a lot to have someone to chat with every week. My family keep in touch, but it's nice to talk to someone who isn't in the family. It gives one the sense of being valued by society. The person who calls me has become a friend and I'm not someone who's ever been particularly good at making new friendships. After the calls I always feel a sense of relief that somebody out there values my company."
---
Find out more about Re-engage's work with Anchor Hanover at: https://www.anchorhanover.org.uk/media/press-room/re-engage-and-anchor-hanover-join-forces-tackle-lockdown-loneliness-older-people (opens new window)
And to access a range of other useful resources and examples of practice on combatting loneliness and reducing isolation, visit the Housing LIN's dedicated webpages.