MyPlace: Building the right home, transforming our community
Despite the uncertainty over future funding for supported living accommodation for the most vulnerable, Bromford has pressed on with its plans to continue to build specialist MyPlace schemes.
With eight now complete and another four under construction, MyPlace offers a safe and secure home for people with a learning or physical disability and those with an enduring mental health diagnosis; giving them the freedom to live their lives the way they want to.
We think it's important to keep building more of this type of home but the bricks and mortar are just the beginning of the story. The one bedroom self-contained apartments give our customers the chance to take control of their lives and start to look forward; but it's in the relationships that are formed between customers, carers, Bromford colleagues and the surrounding community that we begin to see the true value of this type of supported housing.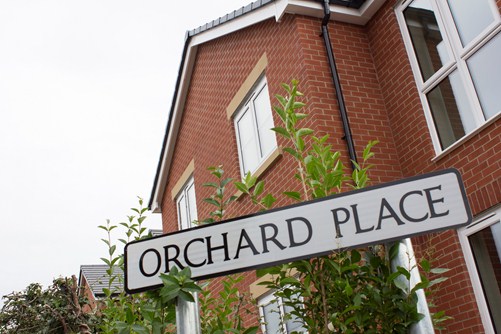 Many of the people moving into one of our MyPlace schemes lack confidence and need time to build the trust needed to allow them to begin to flourish. Abbi is a great example of someone who is reaping the rewards of living at MyPlace.
When she lived at home with her family, Abbi's social life was pretty non-existent, and with her mum doing everything for her she had never had to learn how to look after herself. Since moving into Samuel Place in Redditch in August 2016 her confidence has grown so much that she's making new friendships and trying different things.
She gets involved in arts and crafts sessions, bingo and loves going to the weekly disco. She's also learning how to cook and her carers are helping her to understand the benefits of living a healthy lifestyle and eating well.
MyPlace also gives parents peace of mind – Heather's parents are so proud of what she has achieved since moving into her own flat. Heather has a learning disability and her parents were becoming increasingly worried about what her future would be like when they were no longer able to look after her.
Like Abbi, Heather's confidence was really low when she moved into Samuel Place. Her parents had done everything for her - she'd make the odd cup of tea and maybe a piece of toast, but after only a few months in her own place she's now got a recipe folder and she makes her own shopping lists and prepares meals for herself. Since spending time in the community hub, Heather's confidence has really grown too and she has made a few new friends and has even started going to locally run craft sessions.
These are just two of the many examples of how MyPlace enhances the lives of customers and their families but this isn't the whole story. Schemes are built at the heart of established communities, so that customers and their neighbours in the surrounding area have the opportunity to get to know each other and build mutually rewarding networks.
The new friendships that develop at a MyPlace scheme and the opportunity for customers and communities to start to understand each other's strengths, talents and vulnerabilities really encourage people to come together to nurture and look out for one another. In times of increased pressure on public services like health and social care, building the right home and creating strong, supportive communities is key to the future wellbeing of everyone. MyPlace is transformative and can play a big part in making this possible.
For more information on MyPlace, visit their dedicated webpage.
Follow Helen on Twitter - @helenshields2
Follow Bromford on Twitter - @bromford