Laying the Foundations of Smart Care Technology
In this article, Christian discusses the benefits of building the foundations of smart care technology into housing infrastructure, considering the requirements of the service user, the care provider and the housing developer.
Whether we are referring to an architect designing one home, or a design and build company building 100 homes, smart care technology should be a fundamental part of the process. The core elements should be incorporated at the design and build stage, just as foundations are laid before bricks.
As the world's population gets older (which is accelerating and here to stay), building suitable housing for our ageing population needs to be at the forefront of our agenda. Smart housing, smart care and appropriate neighbourhoods will be a crucial part in how we deliver care which enables people to live independently in their homes for longer. This shift requires a cultural change throughout the sector, and collaborative working will be key. The solution to this vast and growing problem will only be found if companies work together.
Meeting the Needs of Key Stakeholders
AdaptEco (opens new window) designs bespoke, digital Ecosystems through our Digital Care Partnership which enable people to live safely and independently in their home. Our ethos is never to 'over spec' a project, which can mean we run into huge cultural challenges having installed equipment that no one knows how to use or has bought into.
In my view, the digital care EcoSystem needs to address the needs of all key stakeholders:
Achieve the optimum level of care that is right for the service user
Enable family members so that they feel involved and satisfied with the level of care
Ensure the care provider fully understands and benefits from the smart care technology
Meet housing providers strategic objectives and budget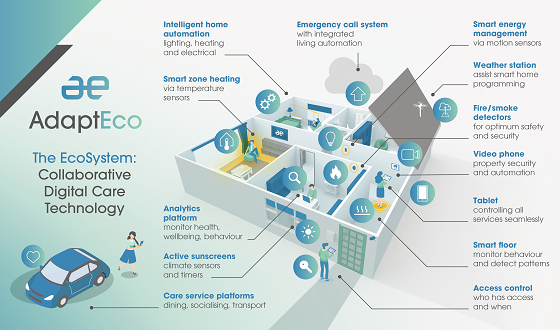 Building a Basic Infrastructure – Tailored to the Individual
For someone who has a lack of experience using technology or who doesn't see any tangible outcomes from using technology, moving into a smart home will always have its challenges. It is important to be sensitive to their needs by striking the right balance between making enough of a step change to assist daily living activities without including too much technology which may create feelings of stress and confusion.
There also a need to educate architects, senior living operators and housing providers on the benefits of incorporating the basic technology infrastructure during the initial build stage. By integrating a core infrastructure which is an Open-Source IP-based platform on which all technologies and appliances are integrated, one can future-proof the property. At this stage, one can put in place a basic smart care offer at both apartment level and building level; this includes videophone + access control, emergency call, weather station, smart building central equipment and CCTV.
For example, at an Apartment level, this could include multifunctional touch panel 10.1", 3rd party plug in of bespoke solutions such as Cubigo, lighting, controlled power sockets, multifunctional push buttons, all-off function, all-on (panic) function, ICE Call function, and access control.
And for building management and environment controls, functionality such as automated heating systems, ventilation, automated blinds, smart floors to detect falls, smart mirrors to measure vital signs, this should be tailored to the individual.
Interoperable EcoSystems
At the initial stages, one may only incorporate a basic technology infrastructure, a platform to build upon this as and when it is required. Adapteco is essentially a digital partner for our clients assisting with a much wider transformation journey. What I have learned in my years of experience is that it is about not trying to do everything on day one but having the ability to respond to change either at an organisation or user level. To do this, an interoperable ecosystem is essential, which allows someone to select the relevant Digital Care Partners for each project.
"A Business Strategy for the Digital Age"
Judy Goldberg of Sony Pictures said:

"You don't need a digital strategy, you need a business strategy for the digital age."
In my view, one's strategy should depend on consumer demand/trends and the level of threat posed to your current business model and how you keep up with the digital age. We have found that our Digital Care Partnership which creates bespoke EcoSystems is continually growing – it enables us to work with some of the most innovative tech companies in the world and our approach is purely tech agnostic. As a result, we can work collaboratively to ensure the best possible solutions for all of our stakeholders.
---
Christian Geisselmann, Founder and CEO of AdaptEco (opens new window) has 25 years' experience in supported housing, health and social care, enabling technology, commissioning, and service redesign. AdaptEco (opens new window) developed a unique Digital Care Partnership, a collaboration between the world's most pioneering smart care technology. AdaptEco (opens new window) carefully selects the relevant Partners to create digital EcoSystems providing bespoke, end to end digital care solutions.
If you found this blog of interest, you can also find a range of other technology related resources, including our Technology for an Ageing Population: Panel for Innovation (TAPPI) Inquiry on the Housing LIN's dedicated webpages.
Lastly, if you would like to find out more about how the Housing LIN can provide you with bespoke support, please email us at: info@housinglin.org.uk