Intergenerational Housing
Intergenerational living is a new focus for the housing industry. We understand now more than ever before that a vibrant community is made up of generations from every walk of life.
Our growing older population, rather than being a burden on public services, can play an important role enhancing the communities they live in. With a wealth of life experience and time on their hands, they can be the community volunteers, informal carers for their grandchildren, receivers of deliveries for their working neighbours and shoppers on the struggling high streets.
Unfortunately, the continuing focus on first time buyers over recent years has skewed delivery, causing a stagnation at one end of the housing market as older people stay put until they are forced to move.
"Our growing older population...can play an important role enhancing the communities they live in"
A shift in attitudes
Attitudes are starting to shift with an influx of new investors and developers in the later living market and an older population who are increasingly discerning, demanding and assertive. Private housing developers are seeing the need but aren't always sure how to respond, as there is a perception that housing for older people is too complicated.
Updates to the National Planning Policy Framework in June 2019 has added to the debate as this now puts the onus on strategic policy-making authorities to consider the housing needs of their older people, as well as those approaching retirement. Developers should now be considering what the offer for older people is and where it should be located within new developments, rather than whether to include it at all.
What are the options?
The options open to the majority of the UK's ageing population are without a doubt limited. The vast majority heading into their later years will stay put in the house they have lived in for years, which will 'evict' them when it can no longer provide for their needs.
Many people do however recognise the need to 'rightsize' into a smaller and more age appropriate dwellings and release some equity for their retirement. Although, in many cases their only option is to move into a property which has been designed for a first-time buyer.
Across the UK there is increasing interest in older people's communities where the home has been designed to suit one's changing needs and addresses the pressing concerns over social isolation and sense of security. Although supply is nowhere near meeting the demand, this market has started to respond creating a variety of products, recognising that no one-size-fits-all.
The solution
Locate older people in the heart of new and existing communities, acknowledge that they are a huge contributor to society and care deeply about staying close to friends and services that are familiar. Older people who live active lives at the heart of the community bring fantastic benefits to the communities they live within.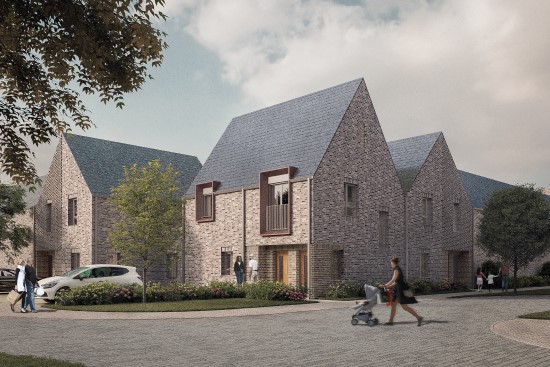 Oakfield Walk-up Apartments, PRP ©
In new communities, such as Oakfield in Swindon, developers are starting to consider new typologies for older people within the housing mix on their masterplans. Nationwide's refreshing focus on intergenerational living at Oakfield demonstrates its commitment to creating a community that provides for the needs of society as a whole. As the architects and influencers of the intergenerational design at Oakfield, PRP challenged the traditional developer approach of building the easiest typology to sell. The design of Oakfield creates a neighbourhood for all generations where older people can positively thrive in their later years and become important pillars of the community.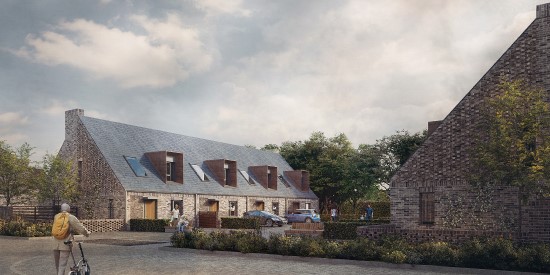 Oakfield Age in Place Cottages, PRP ©
PRP developed three distinct typologies placing older people at the heart of the community and forging a sense of neighbourliness across the generations, namely;
The hub - a focal point within the masterplan, comprising a community space and three distinct apartment types above it. These include designs specific for older people, younger people and wheelchair users.
Walk-up apartments – with front doors located next to each other, leading to ground floor apartments for older people and first floor apartments aimed at a younger generation.
Age in place cottages – to attract recently retired, active older people.
Oakfield Hub, PRP ©
These targeted intergenerational housing typologies sit intentionally at key vistas within the masterplan allowing them access to shared homestead gardens to promote social engagement and wellbeing.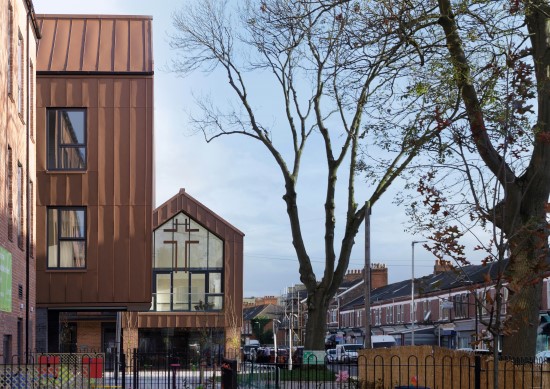 Limelight, Andy Marshall ©
Older people's housing, designed to respond to existing communities, can provide a diversity of community facilities where different generations will naturally interact across the generations. Limelight in Manchester is a pioneering example of this approach.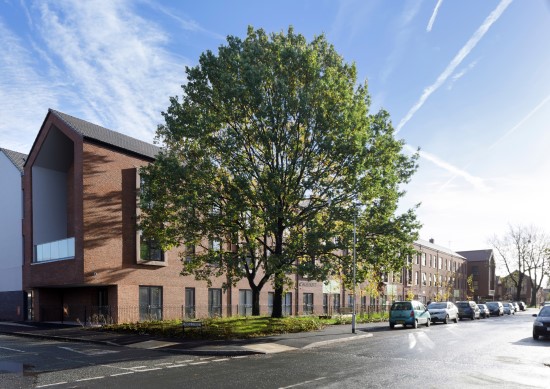 Limelight, Andy Marshall ©
At the very heart of the community it became a strategic development within Trafford Housing Trust's vision to regenerate the area. The development integrates 81 extra care apartments into a development which also incorporates the relocation of two GP surgeries and associated health amenities, space for the delivery of council services, whilst also providing a range of intergenerational facilities for the wider community. These facilities include a library, social enterprise, community café, flexible event spaces, a 40 place children's nursery, sports and recreation facilities alongside the re-provision of a new church and rectory. Collectively they form an integrated hub designed with and serving the diverse community of Old Trafford.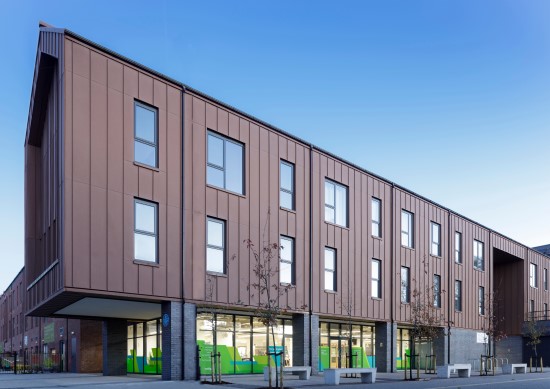 Limelight, Andy Marshall ©
The design concept is based around two new streets. A 'community street' promotes the health and wellbeing of local people, whilst a 'residential street' dovetails the development into the surrounding urban area.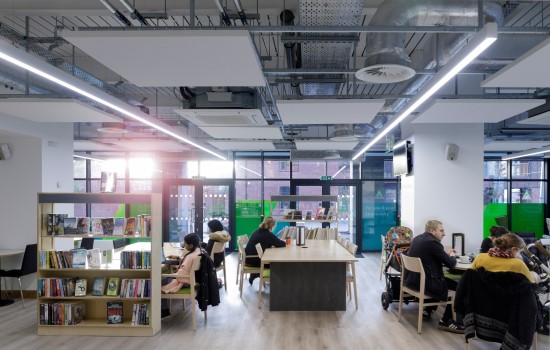 Limelight Community Hub, Andy Marshall ©
Limelight is one of the first integrated hubs to be delivered in the UK and is a model for future age friendly developments, which places older people at the heart of their diverse community.