Independent Living during the pandemic – a silver lining
Life can be full of ups and downs and high and lows and that's certainly been the case for the Silva Homes team during the coronavirus pandemic. 2020 was a really tough year and still I can look back fondly on the way we rose to the Covid-19 challenges in Silva Homes' independent living schemes.
I could not have been prouder of the way my colleagues made sure our customers were well looked after – often going above and beyond by volunteering and providing virtual support. They have kept our customers smiling throughout not one but two lockdowns and there are countless stories that warm my heart.
But there's one event in particular that really stands out because it strikes a chord on different levels. It's the 100th birthday party we organised against the odds for one of our customers because it epitomised everything that is good about our independent living schemes – previously known as sheltered housing.
On a personal level, as Winnie danced in her flat window and waved to loved ones, who were outside and socially distanced singing happy birthday to her, we knew it would be a highlight of an extremely tough year for everyone. She has support, but she still does her own thing. Going into a care setting too soon can topple your independence, which is hard to retrieve once it's gone.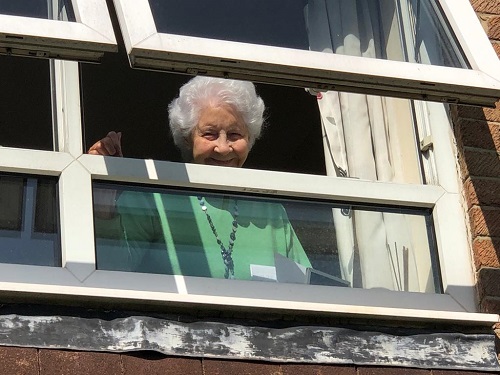 Winnie's birthday summed up everything good about independent living and the personalised customer service that our customers enjoy, especially at places like Broadway House. And, in turn, it was proof that housing associations, like Silva Homes, which offer independent living schemes, can play a key role in the social care sector which is currently creaking under rising pressure.
Independent living works for people who can manage their own affairs but prefer living in a community, near like-minded neighbours, and with the option to take part in organised activities. Overall, the sense of community is the biggest draw of independent living, with lots of fun activities to keep people interacting.
However, we also provide reassurance for residents. Our schemes are also designed for people aged over 55, who want to be as independent as possible, but need assistance with some aspects of daily living which may become challenging as they get older.
When things get back to normal, we'll once again have fish-and-chips nights, bingo nights, film nights, competitions and afternoon teas in person where we will put on our pinnies to serve tea and cakes to keep that sense of community going.
While our safeguarding role is crucial, we don't interfere in daily life. We are on hand if needed, but our customers can ultimately do their own thing. Moreover, many of our independent living customers wouldn't want to live in a care home, unable to pop out and do a bit of shopping. With independent living, they can come and go as they please. They can have visitors at any time, and we just ask them to let us know if they're heading off for a few days.
Independent living schemes make a world of difference to wellbeing. All our homes are unfurnished, allowing residents to personalise them and stay independent for much longer.
When Winnie moved into Broadway House at the age of 96, it was because she wanted to downsize, and not because she needed any extra care. Even now she loves living independently. Indeed, many people in independent living homes never go into care at all and we meet with customers regularly to go over what their needs are and make sure we get it right.
And it isn't one size fits all. We have a very person-centred approach to provide individual support. Everything we do is designed to have a positive impact because our key driver is trying to keep people in their own homes for as long as possible. It's not just for their benefit but for the whole community, as it alleviates the pressure on social care and the health service.
Independent living is the way forward – it's a great service and there's been a rising need for it. We know that independent living schemes are an increasingly important part our social care sector, but housing associations like Silva Homes need the government to maximise their potential, with realistic levels of investment.
---
Bracknell-based Silva Homes is a not-for-profit charitable housing association, which owns and manages the homes of 14,000 customers across the South East. For information on its independent living schemes visit: https://www.silvahomes.co.uk/independent-living (opens new window)
For more on how online activities have helped reduce loneliness and isolation during the pandemic, see the Housing LIN Practice Briefing with an A-Z of examples.
And if you found this blog of interest, check out our Housing for Older People webpages on a variety of independent living choices in later life, and/or talk to us find out how we have been working with the sector to support developing their customer 'offer', assist with service redesign and improvements.