Great Minds – Abbeyfield's perspective on dementia
Abbeyfield is an organisation that offers care and support to older people. Our patron is His Royal Highness, The Prince of Wales, and we were founded over 60 years ago with the aim of alleviating loneliness in older people and improving their quality of life. That ethos continues today with over 8000 older people enjoying supported, family-like houses and specialist care homes across the UK and beyond.
Many of the people we support are living with a complex range of conditions, including dementia, and we recognise that dementia can have a profound impact on everyone, not just those living with the condition. At a recent conference in Manchester, Alastair Burns, National Director for Dementia at NHS England explained that 80% of people living with dementia also have another long term condition, stating, "Dementia rarely travels alone". As a student nurse back in the early 1980's, dementia wasn't something that was talked about very much and certainly wasn't included in our training. Looking back I can now see that there were clearly people dealing with many conditions all at once, including dementia. I wish we'd known more about the condition then as their experience of hospital care could have been so much better.
Prior to working at Abbeyfield, in my career as a housing professional, I saw the numbers of people living with dementia in older peoples' accommodation rise dramatically. I witnessed some excellent care and support, often enabling people to remain living where they want to be, in the place they call home. That's really what inspired me to learn more and to want to make a difference. Wherever or whatever we call 'home', that's where we all want to be, surrounded by the people and things that matter most to us. Why should that be any different for someone living with dementia?
I am extremely proud of the work Abbeyfield does to support people living with dementia and all those affected by it, and constantly impressed by the work of our teams. Every year during Dementia Awareness Week, many of our services run Dementia Friends sessions and other events to help raise awareness of the condition, and this year, to support the work they do, we invited professionals in the field of dementia care to help us in a different way.
In a first for Abbeyfield, we are hosting 'Great Minds' - a series of moving, insightful and inspiring films, broadcasts and presentations which will be streamed on our website throughout Dementia Awareness Week. Some of the nation's leading dementia care professionals and people living with the condition are taking part and will be speaking candidly about the effects the brain disease can have upon people, their family and friends, and champion the need for better public understanding and engagement.
That good housing plays a vital role in supporting people living with dementia is a real passion of mine. I'm delighted that the Housing LIN's own dementia lead Sue Garwood has supported our series with a brilliant recording which addresses some tricky concerns that many housing providers might have. Sue explores some of the wider challenges that can sometimes impede the sector's ability to fulfil its role in enabling people with dementia to live well. In a similar vein, we have Dr Julie Barrett from the Housing and Dementia Research Consortium explaining how research can support this theory. Neither Sue's or Dr Barrett's interviews are to be missed, nor are contributions from our other Great Minds panel:
On New Year's Eve 2010 Keith Oliver's life changed dramatically when a diagnosis of Alzheimer's disease was confirmed. He now uses his energy, drive and skills to promote public awareness around dementia. Those who have heard Keith speak will know that his talks are both moving and engaging. In this unique piece recorded especially for Abbeyfield, Keith describes his own experience of living with Alzheimer's and his hopes for the future.
'Why carers matter' is the title of Ruth Eley's presentation. Ruth is a founder Director and vice-chair of the Life Story Network, which hosts TIDE – Together in Dementia Everyday. Ruth is a strong advocate for the voice of carers and it's interesting to note that the Public Health England dementia 'I' statements are changing to 'We' statements to reflect the vital role that carers play. In this presentation, Ruth highlights some excellent examples of the importance of listening to carers and working together.
At the heart of Abbeyfield's approach to dementia care and support is person centred care. Who better to approach to talk about this than Professor Dawn Brooker from the Association for Dementia Studies at the University of Worcester? Dawn is a world renowned expert in the field of dementia care and her presentation explains how the theory of person-centred care was developed and how the 'enriched' model of dementia care supports people to continue to be themselves.
I am full of admiration for the work that Nicci Gerrard and Julia Jones have done to set up 'John's Campaign'. We know the anxiety that can be felt by people with dementia when they have a stay in an unfamiliar environment such as a hospital and it makes complete sense that people who are important to them should be able to stay with them and visit whenever they need to. I was astounded to hear from them that some care home settings restrict visiting times too. Abbeyfield nationally strongly supports the campaign and Nicci and Julia have kindly allowed us to include film footage about their work.
Apart from highlighting the issues surrounding dementia, I hope the series will encourage people to talk more openly about dementia and challenge everyone from the public to housing and care providers to really think about what it means to live with the condition.
Abbeyfield will be streaming film footage, interviews and talks from the six dementia experts throughout Dementia Awareness Week via https://www.abbeyfield.com/dementia-awareness-week-2017/ (opens new window) and through its social media networks. It will be a fantastic opportunity to hear directly from people who are at the cutting edge of influencing and shaping the way people with dementia can be better understood. Visit the website for updates about the series and on Twitter @TheAbbeyfield and Facebook @AbbeyfieldSociety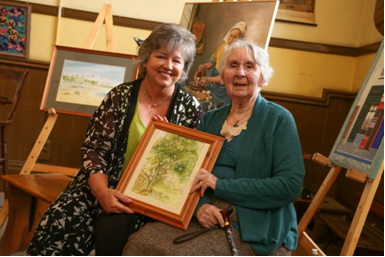 Painting the bigger picture: April with Abbeyfield resident and artist Winifred Spoor at the charity's Golden Galleries exhibition which encourages people to look at the person, not the condition.