Designing for the future, now!
Designing life-long homes that support independence and wellbeing in later life
An American study looking at people who had been widowed but remained living in a home that had been adapted for their spouse including a level access shower, grab rails and a stairlift, showed that while the presence of adaptations did not reduce the number of falls, crucially those falls were 38.6% less likely to be catastrophic for individuals aged 75 and older. This data stimulated the Chartered Institute of Housing (opens new window) to pose the pertinent questions, 'if we could reduce serious falls by nearly 40% by leaving adaptations in place, why do we rip them out without a second thought?' and 'why are adaptations considered as a cheap and short term welfare provision for an immediate need rather than a long term investment in accessibility?'
Transforming spaces and lives through beautifully designed, accessible environments and products
Inclusive design specialists Motionspot have a wealth of experience in helping people who are older and/or disabled to create future-proof homes and spaces they love.
CEO, Ed Warner says, "Age related physical, sensory, and cognitive impairments, such as dementia and changes to perception are unappealing prospects. However, steps taken now to create forever homes with accessible facilities including level access, wide doors and hallways, and an accessible bathroom and kitchen that can adapt with age, will significantly increase the likelihood of being able to stay in a beloved home and community long term."
In real terms, creating future-proof homes and spaces means removing obstacles, clever changes to layout, adding discreet support and innovative products at subtly adjusted heights to create environments that are easy to move around in and keep clean. All without compromising on style or looking clinical. This means considering the things no one wants to think about, like a carer and wheelchair access should the need ever arise, because planning this into the design process early is significantly more cost effective and environmentally sustainable than retrofitting down the line.
Motionspot's inclusive designers start by consulting the people who will use the space to gain a deep understanding of their requirements before moving onto the floorplan to work out the optimum layout and product recommendations. Much of its inclusive design work considers people with early-onset through to later-stage dementia who may struggle to determine where the floor ends, and the wall starts for example. So, the design principles Motionspot recommends for future-proof design include selecting products and finishes that achieve good contrast for visual clarity and navigation ,and install­ing matt rather than gloss tiles and positioning mirrors carefully to avoid disorientating reflections.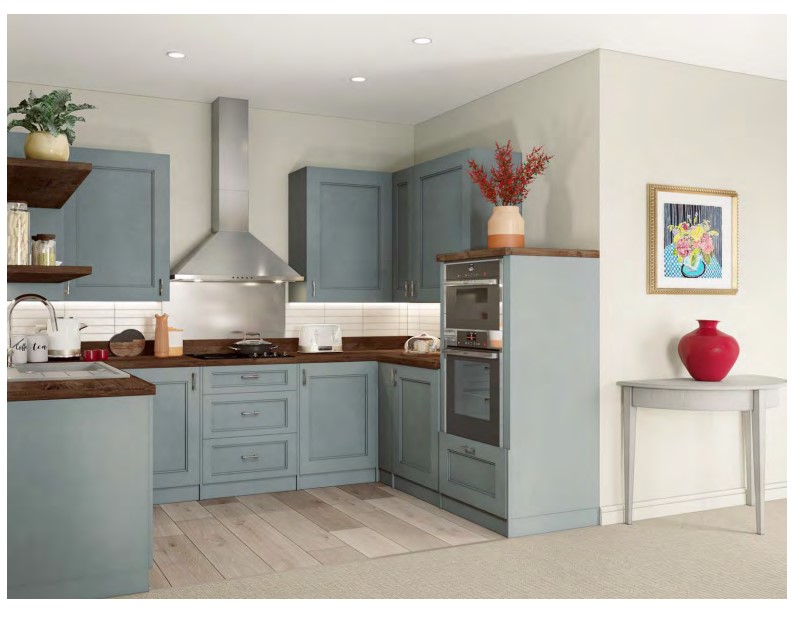 Warner continues, "despite their apparent rigidity, these days bathrooms and kitchens do not have to be problematic. In fact, with good accessible design and clever product choices they can become adaptable spaces that flex to support users over time, all without compromising on style or looking clinical. The bathroom is the room where people want the greatest independence, where the worst accidents in the home tend to occur, and where the biggest design crimes such as white plastic grab rails, medical-looking shower seats, hospital-style vinyl floor­ing, and an overall finish that looks and feels institutional tend to happen."
Specific elements Motionspot recommends for future-proofed spaces include:
a large open shower area with a seat, light bi-fold door and thermostatically controlled shower valve
grab rails fixed to reinforced walls where support is required
a toilet and basin wall-mounted at the heights that best meet the user's needs including to accommodate a stool or wheelchair under the basin
a raised edge on worktops around the tap, hob, and kettle to prevent scalding for anyone who cannot move back quickly if hot water overflows
drop-down baskets in a selection of overhead kitchen cupboards
below worktop drawers rather than cupboards so that all contents can be seen in a single glance
incorporating easy-to-use door handles that require minimal dexterity and strength to operate
including adjustable lighting to suit the task and time of day
selecting a range of seating heights with back and arm supports
reducing the decibel levels of kitchen and bathroom exhaust fans to minimise distraction and confusion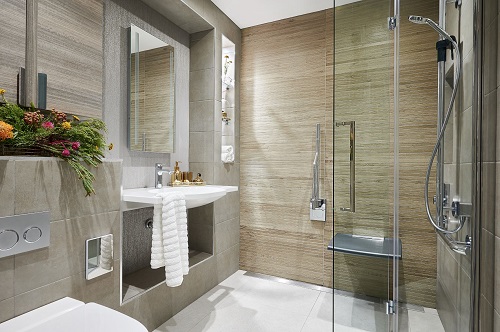 Warner concludes: "The key to great inclusive design is incorporating access considerations from the very start of the design process for totally seamless and aspirational results that prove you can have a home for life without compromising on aesthetics. The biggest compliment is when everyone, regardless of age or ability enjoys being in a space while remaining blissfully ignorant of all the careful design and product choices that went into meeting more specific needs. At the end of the day, great inclusive design is great design for everyone."
Changes across the sector are needed now to ensure meeting demands of today and tomorrow
While retrofitting adaptions is a solution to ensuring homes become future-proof, not all homes can be adapted. And while 80% (opens new window) of older people say they want to stay in their own home as they age (opens new window), one in five (opens new window) people in their 60s say that if they do move home, they would want a new home to be 'future-proofed' for growing older. But, how can this be achieved when just 9% (opens new window) of homes in the UK currently meet the basic standard of accessibility according to the Centre for Ageing Better?
National development partner for later living solutions, Lovell Later Living, is responding to this need; challenging the current inertia within the sector by seeking to accelerate the development of accessible and adaptable housing design to meet the need for greater quantities of appropriate and sustainable later living solutions.
MD, Paula Broadbent says, "These concerns are only set to increase as our older population numbers continue to rise and the need for age-appropriate housing which can continue to safely accommodate people through periods of frailty far outstrips the available supply. The current UK population aged over 65 is set to increase by 40% by 2038, and so the time to deliver large numbers of accessible and appropriate homes is now! Insert image L6A6760.jpgIn this 21st century we should be enabling people to right size sooner in later life to a home which is care ready for the future, yet we appear to remain woefully behind other countries in reducing the occurrences of moving at a point of crisis rather than choice."
"Lovell Later Living is challenging the status quo and current market, building on the independent consumer research I commissioned 7 years ago and continued customer engagement to shape the design of homes and communities' people over 55 aspire to. Working with like-minded associates and partners to create new, intelligent, and accessible housing solutions across all tenures, to provide homes that work for the customer throughout all stages of their later life, gifting peace of mind, control and security. Working in partnership with Registered Providers, Local Authorities and other sectors we can influence change, improve design, develop essential accessibility features and ultimately accelerate delivery of much needed homes, creating communities within communities where people can age safely, independently and well."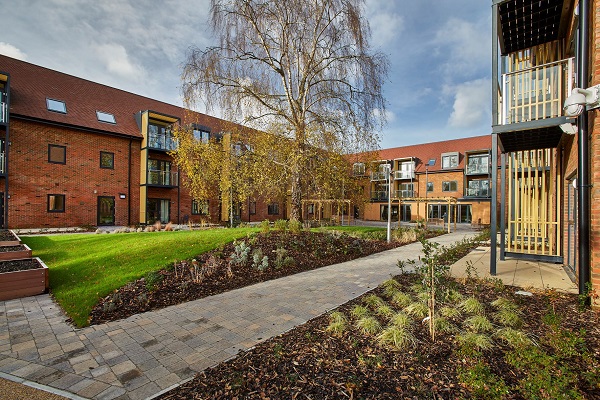 Future-proofing from the commencement of construction
Concerns raised by our ageing population are also reflected within the UK public health challenges. By 2040 there will be over 1.5 million people living with dementia, and it is reported that the present chronic loneliness epidemic associated with depression, anxiety, cognitive and mobility decline adds considerable pressure on the health services and the likelihood of premature mortality. Lovell Later Living work to develop solutions through both Open Market housing and Specialist housing with caring solutions Registered Provider schemes by designing through the eyes of the customer, to identify solutions that can help people age well; improving independent living options so they can remain social and mobile, utilising intelligent design, assistive technology and place making to ensure the right environment where caring facilities and support can be provided, when needed.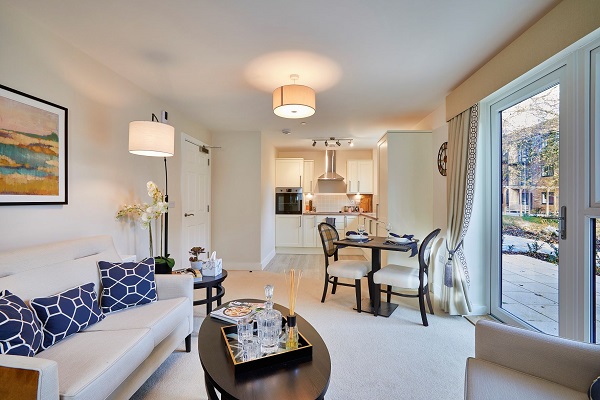 Paula continues, "Our life-long homes have been designed to change with the customer's needs while allowing the customer to remain in control; homes are designed with floorplans and structure that are truly accessible and care ready for the future in the event of immobility and or frailty, fixtures, fittings, intelligent technology and equipment can easily be installed to support the wellbeing of the customer. Many other features that empower the customer to live and age well in their own home, assist with both the sustainable use of the home and safe independent occupation. In addition, all our homes are designed with a range of discreet, adaptive structural features, to ensure any changes can be undertaken without the need for major works, providing our customers with peace of mind their home is future-proof from the point of construction."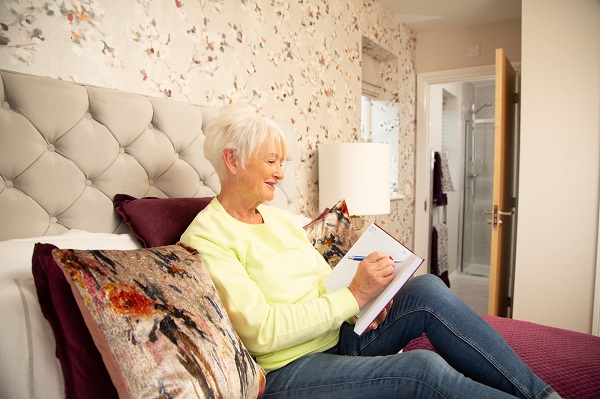 "As we know future proofing is a constantly moving objective, our team strive to keep on top of the progress across the sector, collaborating to maximise opportunity for innovation in design and construction to improve the lived experience for our customers. Change and progress is constant and as we seek out excellence in design to offer the best options across all tenures, we recognise that finding the best solutions which we can implement today to meet the increased needs of tomorrow, is not a solo endeavour. As H E Luccock said, 'No-one can whistle a symphony, it takes an orchestra to play it.'"
We can't presume to have all the answers, but the questions are certainly worth thinking about
To further the discovery into the art of the possible in designing life-long homes that support independence and create the opportunity for healthy ageing, Motionspot and Lovell Later Living have invited a specially selected group of colleagues from across the sector, to come together to share ideas and seek out new solutions to support ageing well and shape healthy communities. This Roundtable event is being hosted in partnership with Housing LIN, and the outcomes of the discussion will stimulate the next phase of informed solutions for the options and choices for older and vulnerable people. Our vision is to facilitate and create thriving intergenerational communities fit for generations to come and welcoming to all of us.
Both Paula and Ed are looking forward to the opportunity to share and shape concepts in accessible design and consider the art of the possible to accelerate the development of aspirational communities and sustainable, accessible housing needed for the UK's aging population. They look forward to sharing the findings from the Roundtable discussion soon.
---
To access a range of other useful resources and examples of practice on designing inclusively, visit the dedicated pages on the Housing LIN website sponsored by Motionspot.
And to coincide with Motionspot's 10th anniversary, we are delighted to host an upcoming HAPPI Hour webinar on 'Designing inclusively: why inclusive and accessible design should be the first fix' on Tuesday, 26 July 2022 4:00pm - 5:15pm. From the built environment to the design of our homes - the fittings, fixtures and interiors - inclusive and accessible design ensures or homes are fit for the future for all. Find out more and register to attend here.