Darlington's Healthy New Town Design Principles – Embedding Quality into the Local Plan and New Developments
Darlington has been a pilot area within the NHS England Healthy New Towns Programme since 2016 when the ten sites were selected. Initially focussed on the area known as the 'Eastern Growth Zone' where development was expected within the life of the project, there was an opportunity to pilot the learning and partnership approaches across the Borough through the emerging Local Plan.
Quite early in the project the Darlington Healthy New Town (HNT) Design Principles were developed, based on existing policy suites that had already been adopted alongside best practice published by the Town and Country Planning Association, the Royal Town Planning Institute and Public Health England amongst others, and best international practice. These Design Principles were intended to be scalable and provide a framework for the creation of successful places that support health and wellbeing and contribute to an attractive and functional place that will continue to attract growth and investment.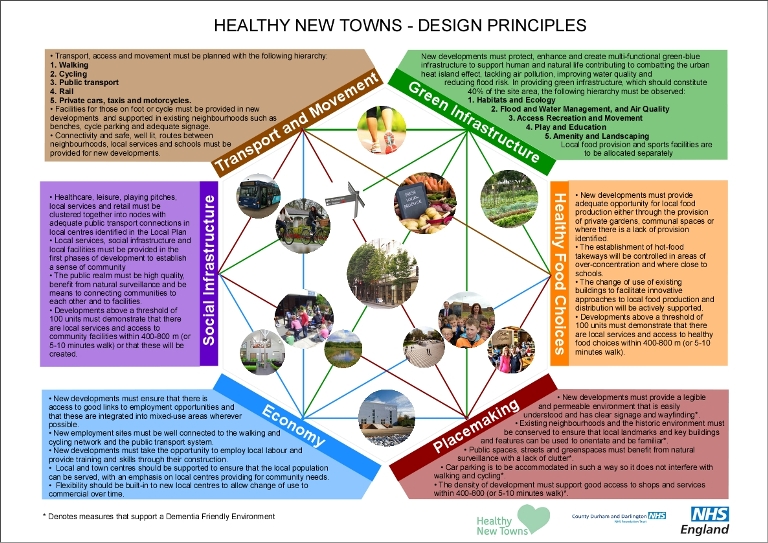 The Darlington HNT Design principles are focussed on six interconnected areas that describe the ingredients of a successful place and provide a framework for negotiations with developers, alongside being used to inform a range of policies in the Local Plan including Design, Green Infrastructure, Energy and Climate Change, Heritage, and Health and Wellbeing. The Design Principles cover Transport and Movement, Green Infrastructure, Healthy Food Choices, Placemaking, the Economy and Social Infrastructure.
Recognised early in the development of the Darlington HNT Design Principles was the need to create accessible, walkable neighbourhoods and places where most everyday needs are within 400-800m, or 5-10 minutes' walk. Access and proximity to parks and greenspace, education, healthy food choices, health and social care facilities and community buildings are important elements that need to be in place in the early phases of development and are often overlooked in new developments.
It is important to recognise the interconnectedness of the various components that relate to each other in often surprising ways. The links between green infrastructure, health, economic growth and an ecosystems services approach are being established through current and emerging research with an increasingly compelling evidence base to support investments that secure long term benefits and savings.
There is still much to be done however, and much of the process of establishing and embedding the Principles has been about winning hearts and minds and establishing dialogue between often competing priorities. Many priorities, however, converge within the built environment, where the qualities of a fair and accessible place are instantly recognisable in successful communities.
There have already been quick wins in the form of improved developments that are coming out of the ground. The Red Hall Stables site under construction via our HNT partner Keepmoat homes embodies many of the Darlington HNT Design Principles providing excellent access to the surrounding greenspace, facilitating connections to existing retail and service provision and public transport. Signalling a step change these homes are designed to be flexible and have influenced the development of house types that will be rolled out elsewhere, demonstrating that collaborative working can have a profound influence.
Darlington's Healthy New Town Design Principles – Embedding Quality into the Local Plan and New Developments