Co-design workshop identifies new technologies to support greater independence for older residents
Johnnie Johnson Housing (JJH) specialises in affordable housing, in particular independent living homes for older adults living in the North.
We have 5,000 properties across the North West, North East and Yorkshire and Derbyshire and 7,000 residents, with around 60 per cent who are over the age of 85. Astraline is our in-house emergency telecare and technology-enabled care and response service.
Last month, we invited residents from one of our dementia-friendly independent living schemes in the North West to participate in a discovery and co-design workshop.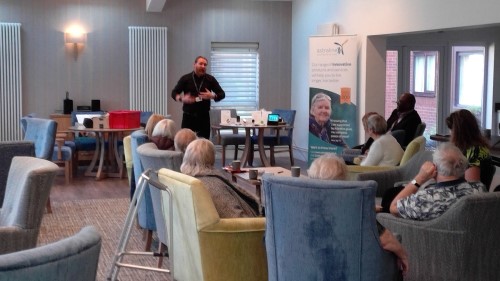 The workshop explored assistive technologies and solutions that may offer benefits to older residents who wish to live more independently in their own homes for longer and those who are living with dementia-related conditions.
Currently nine out of ten older people wish to live at home and many of them need some level of support. We currently have a UK population of 1.6 million adults over the age of 85, but by 2043 The Office for National Statistics predicts there will be 3 million people over 85 – businesses like ours need to be prepared for this growth, maximising independent living opportunities and minimising the costs of ageing in place. One way of doing this is by finding technologies that can enhance older residents' confidence in maintaining a good quality of life.
A total of 20 people took part in our workshop, including residents, family members and staff. Participants included those with dementia-related conditions and disabilities. Our partners and project facilitators used a set of activities and service design tools to engage participants, elicit their views, ideas, problems and requirements. Service design uses various methodologies to design according to the needs of customers or participants, so that the product or service is usable, useful and desirable.
The activities were purposely quick, fun and easy to do. We also took accessibility factors into account and team members supported each person to be as engaged as possible during events. We used techniques that included asking participants to create personas, to help the project team better understand the requirements and motivations of typical users. During the sessions, the attendees were asked to think about user journeys and plot a typical day in their life. This allowed for discussion of where assistive technology may play a role in their day.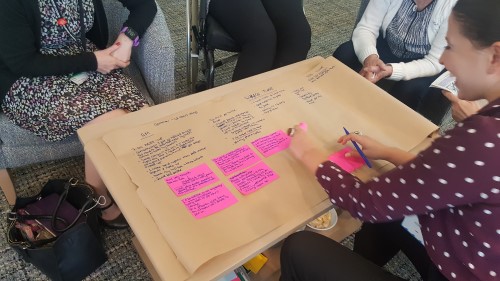 The engagement activities identified who would use which technology, what it would be used for, where it would be used and who would benefit from its use. The group overall was interested in the idea of using assistive technology and acknowledged the benefits it could offer, including the increase in confidence it could provide carers, family members and staff around residents' health and wellbeing. Examples given from family members included wanting to know if mum or dad were up in the mornings, were they maintaining usual patterns of behaviour like making a cup of tea or cooking their dinner.
We asked residents to discuss other aspects of their experience as a resident of Johnnie Johnson Housing. The themes raised gave valuable insight into challenges faced that could affect the adoption of the technology in a range of ways. These included concerns around feelings of growing isolation among some residents, which could drive them outside of the property on a more regular basis, leaving them open to a wider range of vulnerabilities.
by 2043 […] there will be 3m people over 85 – [we] need to [prepare] for this growth, maximising independent living opportunities and minimising the costs of ageing in place.Over the coming months we will be trialling a number of assistive technologies in a housing setting in our independent living scheme in Great Manchester, in partnership with volunteers from the workshop and family members who are keen to be involved. We have selected solutions that best meet our user group's needs. We will test around eight products that fall into four different categories: wearables, voice controlled, mobile and passive sensor. Those products will be the True-Kare Pebble, Chiptech GO, HOWz, Alcuris, Alexa Show, iCare Watch, Smartwatcher and Navigil 5 Series.
We will pair up residents and each pair will get to test both products from their category – we will have them swap half way through the trial period. That way we maximise the range of assistive technologies being trialled. Each product pair may include the same functionality; however, the user experience may differ and we can compare and contrast accordingly.
And lastly, to ensure ongoing co-design, we will be engaging with our volunteers on a regular basis over a three to four month period and will report back on the findings early next year. We look forward to sharing these findings with the Housing LIN.
---
Follow us on Twitter: @_Astraline (opens new window) #TECS #LifestyleMonitoring #ServiceDesign #DigitalHealth
*About Astraline
Johnnie Johnson Housing set up Astraline in 2000. Astraline is a Quality Standards Framework (QSF) accredited alarm-receiving centre (ARC). Regulated by the TEC Quality (TQ) arm of the TEC Services Association (TSA) it provides 24/7/365 remote monitoring of Technology Enabled Care (TEC). Dedicated to enhancing the quality of life of its customers by finding the best solutions to support greater independence, confidence and safety, inside and outside of the home. Its in-home TEC solutions include pull-cords, pendants, panic buttons and motion sensors and, outside the home, customers can use its GPS-enabled and mobile products including pendants, watches and smartphones. It continues to innovate, always looking for new and better ways to support its customers to live longer, better lives.