Are you ready to be isolated? Wellbeing lead approach to live/work housing
A question all housing professionals have been wondering is what will change after lock down? Whatever your job or circumstances since the lock down people are spending prolonged amounts of time inside their own home. This gives us the unique chance to review our housing, realise the successes and failures in their design. From acoustics to layout we are seeing opportunities to improve. Post COVID-19 will people be looking to move, to find the property without the flaws they have experienced? If so, is there anywhere to move to which meets the post COVID- 19 worlds requirements.
In early April, the Housing LIN's Jeremy Porteus published an interesting blog - HAPPI Working from Home? Designing 'work ready' housing. He recalibrated HAPPI to incorporate 'work ready' principles. It mentioned the need to adapt and adjust HAPPI to meet a growth in home working for all ages. Archadia are interested in looking at the future of housing and how these principles can be effectively adopted. We support the work ready design features which are similar to what we have been advocating on our social media.
As a specialist in older and disabled people design, Archadia have been reviewing how you can isolate and live with vulnerable people. This design series was inspired from employees' experiences. Many have family members who are key workers or are living with vulnerable people; this is a summation of their shared learning. Over the last couple of weeks, we have explored what should and could change to form a person-centred wellbeing approach. The suggestions we have made look at new build as well as how we can adapt our homes to suit the COVID-19 living style.
With COVID-19 in mind, are you coping with isolation? In new Housing LIN Blog by Kathryn Thomas at Archadia Architects explores housing design and adaptations for greater wellbeing and workready housing
Firstly, we saw there is a difference in the recommendations for houses compared to flats and new build compared to adaptation. We want to propose general principles that can be applied to all types of housing. However, it is also important to highlight that every person will have different physical and mental requirements which will lead to the general principles being personalised.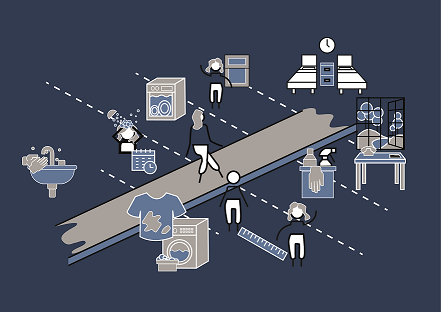 Our key points:
Layout - Any layout now needs to consider infection control; we need to move through the house from the public realm into our quarantined area. This can be done through lobbies and hallways being larger to hold parcels and bins before they come in or out of the home. There needs to be easy to use facilities by entrances to allow for washing and showering. We need to consider how we enter our homes and stop spreading infection to the vulnerable people inside.
Areas and Cross programming - The space standards are generous in the UK compared to many places in the world however they have worked on dividing space into zones. We need to look at adapting them to take into account cross programming and the additional uses the house may now need to contain. Where can we put our work space? Where can we put our desk? Do we have enough room to exercise? Where is the 'learning' space for our children? Increasing the space standards to allow for an "office" area and more generous living space could help with these provisions.
Density and External space - With new build we have been increasing density, reducing green space and narrowing pavements. Living in tightly packed areas increases the likelihood of infections spreading, for example London's COVID-19 infection rate and other major cities around the world. Having private outdoor space for exercise can help to minimise the risk of infection. With more space we can easily maintain two metres separation when out and exercise outdoors safely. Although lower density is deemed to be less cost effective it could be better for both sustainability and the living environments we create and ultimately wellbeing can be improved.
Views - Windows are our access to the world especially for those who are kept inside and have no private external spaces. We have acknowledged that having dual aspect living is better for light but also for capturing views. Having connections with a natural or urban environment is essential. Windows are vital, they are multi-functional they provide light, views, security (Neighbourhood watch) and ventilation. Now our houses represent a work environment as well as home our situation and outlook are more important than ever. Would internal windows allow better awareness of our surroundings and movements and activities of others? We need to be designing homes of the future with views of nature where possible. Our layouts need to consider positions for desks and the work environment created; lighting, views, ventilation, activity etc. We need to create dynamic environments suitable for live/work balance.
Materiality - A lot of surfaces within the home are touched by multiple people and can be areas of infection transference. Light switches, flushes, door handles, taps etc are part of everyday life. Although surfaces are not considered to be the main way that COVID 19 is spreading; the advice is cleaning and disinfecting frequently touched surfaces daily is key. Copper and Brass door handles could come back into fashion as they increase germ protection. Archadia hypothesise that material choices in buildings will not be based merely on cost or aesthetic but the hygiene qualities of the material.
Technology - Many people are getting smart technology in their homes, from wireless lighting systems and smart thermostats to voice command virtual assistants. These new technologies could help reduce infection transference by stopping the need for multiple people to touch light switches, thermostats, remotes etc. Paired with sensor taps and flushes, could this be the future of our homes? Would a 'Smart Home' help with health and wellbeing? Being able to call people on voice command virtual assistants could this help when people are lonely, taken ill or have fallen, if they can speak, they can call for help. With the advent of driverless cars should we be looking to the car industry for inspiration on automation and sensor-controlled technology?
We need to consider all solutions as a whole. And with the government's Home of 2030 in mind, the home of the future needs to meet four themes; accessibility, hygiene, environment and cost. Any future housing must be smart and sustainable. If we are adding items to the energy load rather than replacing them are, we worsening the problem? We should be retrofitting to improve energy performance – many household bills will increase during isolation and with many being placed on furlough is it affordable to live in uninsulated properties? A balance between these themes could help reduce infection transference and increase wellbeing and help prepare for a new post-pandemic world.
This Housing LIN blog is part of a new series stimulated by the Housing LIN's Jeremy Porteus thoughts on preparing for 'work ready' housing and adapting the HAPPI design principle for work readiness (referenced in this article).
If you would like to contribute a guest blog on your experiences of adapting your home and/or share information on further design considerations on working from home, email us at: info@housinglin.org.uk