An accessible home is a human right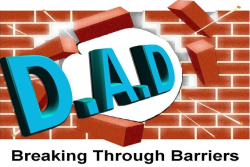 As a Disabled People's User Led Organisations (DPULO's) Darlington Association on Disability (DAD) aims to promote Independence, Choice and Control.
An accessible home is, undoubtedly, the basic requirement for anyone to be independent. On a daily basis it is a key element of our work supporting individuals, co-producing solutions, influencing strategy or campaigning.
An accessible home is, undoubtedly, the basic requirement for anyone to be independent. DPULO's aren't usually seen as 'housing' organisations, but by our very nature it is probably embedded in the genes of every DPULO as part of our core mission to promote the Social Model of Disability, constantly raising the issues of equality and the barriers disabled people face in Society. Controlled and led by disabled people our organisations are in a unique position to understand the issues disabled people face and what needs to change to address these issues. DPULO's can be credited with developing the Independent Living Movement and our organisation has been pushing the boundaries and campaigning for accessible housing for over 30 years.
In our very early days our Vice Chairperson, Claire Heward, was the first person locally to co-produce her own accessible home. Claire had been an active member of a national organisation called the Disablement Income Group (DIG) which took a leading role in campaigning for pensions and welfare benefits for disabled people and followed the struggle of early disability rights campaigners whose determination and vision resulted in , the first council housing that allowed disabled people to live independently outside of institutionalised care in the 1970's, their story is here (opens new window).
Due to Claire's insistence that she was not going to be moved, against her will, into institutional care she identified a small local housing association and worked with the local authority to gain agreement to be able to design a new home to meet her need's. State of the art technology of the time – 'a possum', an accessible bathroom with tracking hoists to the bedroom and a fully accessible kitchen were all included in the specification. Claire's accessible home transformed her life. After moving in she gave an interview at the time in a local magazine saying;
'It was very difficult for people to visit me previously, this year has been so different, it's difficult to explain. I was able to be supported into my outdoor chair, go into town, come back, pop into the little restaurant next door and have a sandwich and a cup of coffee. I quite often do that on Saturday, which again was a day when I rarely saw anybody, quite often nobody, from the nurses going in the morning to the nurses coming to put me to bed at night. It's very difficult to explain to people, to make them understand exactly how my life has changed. My three sisters, who are also wheelchair users, came to spend the day with me before Christmas and it was the first time we had been able to be together in my home'
Claire' continued in a campaigning role at DAD, supporting several people to co-produce their homes to meet their needs, and being an active disability rights campaigner well before any legislation supporting disabled people rights.
What has changed?
In the 30 plus years since Claire was campaigning for accessible housing fortunately legislation has changed. The Disability Discrimination Act, and subsequent Equality Act, now means that rights are enshrined in legislation and our Trustees, staff and volunteers, as disabled people and supporters, use the legislation to ensure that people's rights are up held across a wide range of areas impacting on the lives of disabled people.
However despite the legislation and the mounting evidence of the lack of accessible housing there appears to be few opportunities for disabled people to coproduce their housing solutions.
In Darlington, DAD has continued, to tackle the housing issues disabled people face in a range of ways including responding to the Local Councils Strategic Plan to influence the number of accessible homes included in the plan, ensuring attention is drawn to the recently published Equality and Human Rights Commission report (opens new window) which clearly demonstrates the impact on disabled people of the lack of accessible housing. The average waiting time, nationally, for an accessible home being 25 months and those waiting for adaptations taking 5 months from application for a Disabled Facilities Grant to be approved.
Unless Councils are working closely with their local disability organisation it must be very difficult to assess the need for accessible housing, as required for the development of the Local Plan.
Volunteers from our Access Interest Group have expertise and knowledge, based on their lived experience that is invaluable to planners. They research evidence of need to support the argument for more accessible housing. They comment on every planning application for new homes in the area, raising access issues. Often we are called on by the local authority to advise on improvements, or where things have gone badly wrong, such as a recent example on a local housing development where clearly the lack of pavements meant that the homes did not meet the minimum requirements for new developments as several had steps up to the front doors. There seemed no justifiable reason as the land was fairly level. It transpired that someone thought 'that it looked better for the development'! The reason for having a step free access was lost throughout the building process.
Legislation will only achieve so much, it takes everyone involved to fully understand what the legislation is there to accomplish. A willingness to build homes that are accessible is needed and this willingness needs to come from everyone from architects, planners, builders and highway departments to the actual site operatives.
Fully wheelchair accessible homes are desperately needed however a large obstacle has been placed in the way of disabled people getting a home where they can live independently. This is the requirement for accessible housing to be subject to viability testing where need can be demonstrated. Without robust evidence developers, public and private, will not invest.
DPULO's are the organisations that are in a position, with the right resources, to assist local authorities and other agencies, demonstrate that need. Their knowledge and expertise is vital to be included in the first conversations around planning and development to ensure that independent living is a reality for many more disabled people.
However, perhaps there is an alternative to gain the choice and control that Claire and other activists had 30 years ago. Community Led Housing is enabling individuals and communities of all ages to join together, take the lead and build the type of homes that local people need and want. As highlighted in #ForAccessibleHomes week this month, this may be one way forward for disabled people to create their own accessible homes.