World Alzheimer Report 2020: Design, Dignity, Dementia: dementia-related design and the built environment (Volumes One and Two)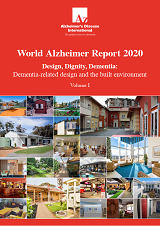 These extensive reports look at design progress to date, best practice, pioneers and innovators, design principles, application, regional and cultural contexts, the importance of including people with dementia in every stage of the design process, and poignantly the role of design during the coronavirus pandemic and beyond.
Published by Alzheimer's Disease International (ADI) on World Alzheimer's Day, they offer a global perspective of dementia related design that takes a cross cultural approach, reflects regional and economic differences and low- middle- and high- income countries, and will consider urban versus rural settings. They also looks to benchmark against progress made in the physical disabilities movement and demands the same progress is now made in design solutions for people living with dementia, calling for design solutions to be included in national governments' responses to dementia, including in their national plans, recognising design as a vital, non-pharmacological intervention.
"By providing appropriate housing options in the community, in combination with home and social care, people living with dementia can be supported to age in place and avoid or defer a move into residential care."
Across two volumes, including 84 case studies (4 from the UK), the reports look at design in home/domestic settings, day and residential care, hospitals and public buildings and spaces. They demonstrate that dementia design follows simple principles, is cost effective and dramatically improves enjoyment and safety of built environments for those living with dementia. Furthermore, dementia design can enable people to live in their own homes and communities for as long as possible.
Lastly, ADI calls on governments to embed design in their national dementia responses under the Convention on the Rights of Persons with Disabilities.