Windsor & Maidenhead Borough Council: Planning for an Ageing Population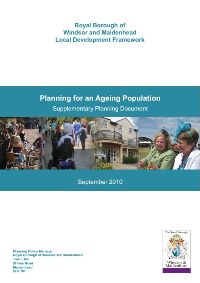 As part of its local planning strategy, the council has developed a Planning for an Ageing Population Supplementary Planning Document (SPD). This document provides guidance for producing homes that will be flexible to meet the changing needs of residents; for creating inclusive communities that will be welcoming and accessible for people of any age, ability or background; and for the development of care homes and retirement communities.
This SPD provides a local context for the Government's Lifetime Homes, Lifetime Neighbourhoods: A National Strategy for Housing in an Ageing Society. This SPD forms part of the Local Development Framework (LDF) (opens new window) and sets policy that will be a material consideration in relevant planning decision making. The link to the Councils LDF is provided below.