Why older private renters need more security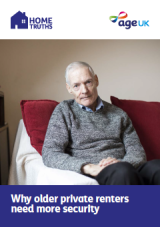 This report from Age UK highlights the major issues faced by older renters such as:
Fear of eviction and lack of protection for the older renters
Poor home conditions such as damp and cold homes - nearly 250,000 older people are living in non-decent homes
Difficulty in paying their rent - high rent leads to 1 in 3 older renters living in poverty after rent is paid
Personal accounts featured described the feeling of insecurity, worry and fear that their landlord will not listen to them or evict them. The report also puts forward the need to abolish section 21 which allow no-fault evictions with a short notice, which have been used to evict older tenants so that the property can be used as assured shorthold tenancies - which are more favourable for landlords.
The stress caused by a short notice eviction is especially difficult for older renters because they are often evicted more than once in a short period of renting - creating unnecessary worry about their tenancies. Landlords were also interviewed, and the conclusion was that long-term tenancies are good for both the tenants and the landlords - many landlords are retired, and the rent from their tenants provide good supplementary income to their pension.
The report ends with Age UK's campaign to abolish Section 21 evictions and strengthen renters' rights.