Why not home? Why not today?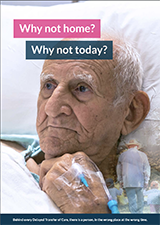 Are you looking for practical, rooted-in-reality help, in tackling the complex and long-term challenges of delayed transfers of patients from hospital settings?
This paper from Newton and The Better Care Fund details a collaborative approach in tackling the challenges relating to delayed patient transfers from a hospital environment; highlighting the importance of changing long-standing behaviours in both leadership and frontline teams, and embracing the principle that the outcome for the patient is more important than the process.