Why city living for people in later life chimes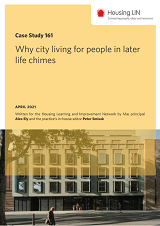 This Housing LIN case study (No 161) features Lifestory's (formerly PegasusLife) new retirement living development in Westminster, Chimes, in earshot of the bells of Westminster Abbey and Big Ben.
Chimes is also one of a number of retirement living and extra care housing schemes shortlisted in the HAPPI category (supported by the Housing LIN) of the 2021 Housing Design Awards (opens new window) announced last week.
The development is a stylish collection of 39 one- and two-bedroom apartments, designed in the form of a mansion block with four quarters and positioned to reflect Big Ben's chime every quarter of an hour. It offers a contemporary take on a traditional mansion block with generous ceiling and window heights, shared amenities and architectural detailing. And architecturally, with Covid-19 in mind, the design standards and mansion block layout of the building create a place where social distancing will not diminish the quality of community.