Wheelchair Housing Design Guide: 3rd Edition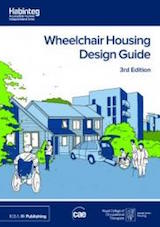 The new edition of Habinteg Housing's 'Wheelchair Housing Design Guide' explains how to design and detail a home that is fully manageable by wheelchair users and maximises their independence.
Published by RIBA, this fully-updated, activity-based guide discusses design considerations, requirements and recommendations for various activities carried out within the home; provides design solutions and good practice examples of how to comply with the building accessibility regulations and Building Regulations Part M; reflects and promotes the values and principles of existing strategies for social inclusion, and promotes the long-term cost benefits of designing to wheelchair accessibility standards.
In detail, the guide:
Is fully updated to comply with the latest regulatory changes to Part M;
Offers advice on maximising independence for wheelchair users and their families, as well as detailing the minimum technical standards to comply with Building Regulations;
Provides accessible information which is easy to navigate for both practitioners and students.