Wheelchair Guide for Accessible Bathroom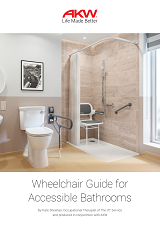 AKW, a manufacturer of accessible toilets and bathrooms, have produced a short guide on designing a wheelchair accessible bathroom.
Written by the OT Service, it highlights a range of common elements for promoting independence and dignity that should be included when specifying or installing any wheelchair accessible bathroom. The guide offers useful diagrams and recommendations on spatial features, what the key characteristics of good design looks like ie for transfers, addressing other disabilities and/or household composition ie children, and lists a range of relevant AKW products.