What is a 'good enough' life?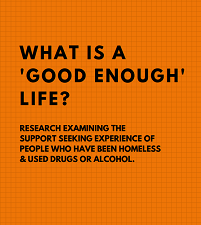 This research project by the University of Liverpool examined the support seeking experiences of people who have experienced homelessness and used drugs or alcohol.
It aimed to collect stories of survival by those without a home who also use alcohol or substances and ask, and what is a 'good enough' life for people often labelled as 'hard to reach' who can't access the help they need.
Some findings include:
'Hard to reach' groups felt the longer homelessness when on, the harder it seemed to get help from police and services and that this wore down their physical and medial health.
Consistent rejection and disappointment faced by those taking part of the research led to feelings of hopelessness which often led to continued or increased drug and alcohol use.
It's difficult for some people to make new friends and connections once they had moved into accommodation by themselves.
Over time, people were able to assert themselves and identify what they wanted. Education and training wasn't for everyone, but what made the difference was that people had choice over what they engaged in and were supported to access resource they found useful.
The findings presented in this document are based on the stories and themes from individual interviews and focus groups and found a clear link with other pieces of homelessness research, suggesting that the themes from this project tie into some common experiences.
This document also includes some observations from what people have said, some overall themes from the work, and suggestions for services and commissioners that are seeking to support people experiencing homelessness and addiction. There are also recommendations for anyone conducting research in this area.