What collaborative housing offers in a pandemic: Evidence from 18 communities in England and Wales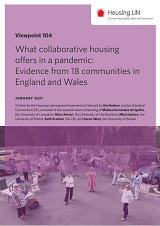 This Housing LIN Viewpoint (no 104) by Jim Hudson at the LSE and colleagues at the Universities of Lancaster, Northumbria and Bristol, looks at the impact of Covid-19 and captures the responses and experiences of how Community-led housing (CLH) projects in England and Wales have coped during the pandemic. It highlights how the benefits of CLHs have fostered community and neighbourly support but also how this has been challenged by the restrictions necessitated by the pandemic.
Funded by the NIHR SSCR, the research was undertaken in the summer of 2020 and focussed on 18 CLH projects in England and Wales. It found that the Covid-19 pandemic demonstrated the social value of community and neighbourly support amongst older and vulnerable residents, fostered by the ethos of the projects to give each other such support, given their collaborative and supportive approach. However, it was noted that pre-lockdown, these practices are based on residents being physically close to one another, often sharing spaces and resources to undertake community activities: situations potentially challenged by the restrictions necessitated by the pandemic.
While, the researchers found some of these activities were able to continue outdoors (aided by the exceptionally good weather through the first half of 2020), all the respondents reported feeling the impact of having to distance from each other during lockdown. This was exacerbated depending on the availability of indoor and outdoor communal space and how this was shared and also the amount of support required; for example, a resident with an existing long term condition or care need.