Vision for later life in Britain 2021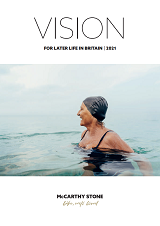 This report by retirement housing developer and operator McCarthy Stone, explores what can be done to create a better understanding and appreciation of older people.
Vision for Later Life in Britain, McCarthy Stone's manifesto for change, outlines four interconnected key themes that reveal why later life can often be seen as a negative experience. These include:
Ageism
a distorted perceptions of ageing
inadequate support and policies; and
while COVID-19 created a greater appreciation of older people, this focus is in danger of quickly being lost before meaningful change can be made.
With this said, the report offers 10 proactive recommendations on how to move forward and make Britain the best country in which to grow old. These include:
A dedicated new Minister for older people
Fair representation of older people in the media
Workplace diversity and new 'age gap' reporting so older people are valued in the workplace
Work to create a pool of later-life skilled volunteers
Digital skills training to bridge the skills gap for this age group
Publication of the social care white paper to care for an aging population
Increase accessibility of suitable housing, including affordable retirement housing