Understanding befriending: A study of befriending schemes for older people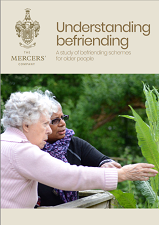 The Mercers' Company undertook an evaluation of the grants made in support of befriending services, particularly since this method of delivery has increased as a result of the COVID-19 pandemic.
While befriending could be provided to anyone experiencing or at risk of loneliness and/social isolation, in practice it's usually offered to people who would be unable to access other forms of support making social connections. As such it's often the last line of human contact.
The report revealed:
The need to ensure that befriending relationships are sustained over time often leads to some of the groups that are at greater risk of loneliness missing out, including people living with cognitive impairment or mental health conditions, and people who do not speak English as a first language.
Men tend to be under-represented in befriending schemes.
There are several factors necessary for establishing and sustaining positive, lasting relationships, including: volunteer efforts and emotional investment; matching and introductions; removing barriers; limiting eligibility; and setting boundaries.
Befriending schemes are unlikely in themselves to reduce loneliness because these services provide limited social contact and are rarely a route to wider connections.
Befriending does have important benefits, such as: meaningful relationships; awakening interests; and acts as an early warning system.
Moving forward, the report recommends that organisations which provide befriending should:
Confidently communicate the value of befriending relationships.
Support volunteers in encouraging service users to rekindle their interests.
Explore a new framing for befriending built around its role in supporting independence, rather than reducing isolation.
Take action to extend befriending services.
Funders and others involved in supporting befriending organisations can provide resources, help and support to enable them to take these steps.